The Jewels Of Central Europe / 08 days

Budapest - Vienna - Prague By Rail
Every Friday . Saturday . Sunday


DAY 01

Depart USA to Hungary. Your flight includes meals, drinks, and in-flight entertainment for your journey

DAY 02

Arrive in Budapest and transfer to your hotel. Balance of the day is at leisure: BUDAPEST

DAY 03

Today, we offer you an optional morning tour of Budapest. Pass by the Parliament before crossing the Danube on the Margaret Bridge and ascending to the Royal Castle on the Buda side. Visit the Fishermen's Bastion and the Matthias Church. Continue to the Citadel to enjoy magnificent views of the city before crossing Elisabeth Bridge. Visit Heroes' Square before passing by the Opera and St. Stephen's Basilica ($38). Afternoon is at leisure (B): BUDAPEST

DAY 04

This morning, transfer independently to the rail station for your trip via first class rail to Vienna. Upon arrival, transfer independently to your hotel. This afternoon, we offer you an optional tour of Vienna and Schonbrunn Palace. View the State Opera House, the Museum of Fine Arts, Natural History Museum, cultural district, Museums Quarter, the former Hapsburg winter residence, the Hofburg Palace, Parliament, City Hall and the Burgtheater. The highlight of the tour is a guided visit through the magnificent halls and apartments at Schonbrunn Palace ($46). This evening, enjoy an optional dinner with entertainment in Grinzing. Begin the evening with a drive along the Ringstrasse before arriving at the Viennese amusement park, the Prater. A ride on the Giant Ferris Wheel will give you a marvellous view of the city. Continue to a wine tavern where you will be entertained by members of the 1st Grinzinger Heurigenshow while enjoying dinner with wine ($85) (B): VIENNA

DAY 05

Enjoy a full day at leisure or choose our optional morning sightseeing tour including a guided stroll through the center of Vienna. Start the walk with a visit to the Imperial Crypt, the burial of the Hapsburgs, where Empress Elisabeth "Sisi" is also buried. Before a visit to the Hofburg Palace, take the opportunity to watch the training of the world famous Lipizzaner horses. Here the tradition of the High School of Riding is still cherished. The tour ends at St. Stephen's Cathedral, one of the landmarks of the city ($58). Balance of the day is at leisure (B): VIENNA

DAY 06

DAY 6, This morning, transfer independently to the rail station for your trip via first class rail to Prague. Upon arrival, transfer independently to your hotel. Balance of the day is at leisure (B): PRAGUE

DAY 07

This morning, we offer you an optional tour of the historic areas of Prague, including a walking tour of the Prague Castle area and St. Vitus Cathedral. View the National Theatre, Charles Bridge, Lesser Town and the Old Town Square ($35). This afternoon, choose our optional tour to Karlstejn. Travel through the countryside to Karlstejn Castle, one of the most impressive Gothic castles of Bohemia. Charles IV founded it in the 14th century to house the treasures and crown jewels of Czech kings ($38). Remainder of the day is at leisure (B): PRAGUE

DAY 08

Transfer to the airport in Prague for your homebound flight arrives the same day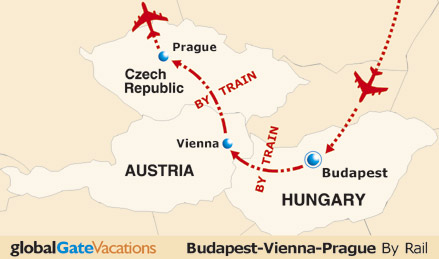 TOUR FEATURES

Scheduled transatlantic flight (round trip ticket) from & to New York

(for supplements from other US gateways , please refer to our reservation department

Accommodation at hotels (meals as per itinerary)

Arrival and departure transfers as per itinerary

Included sightseeing as per itinerary

Professional tour directors to escort you

NOT INCLUDED

Airport taxes and September 11th security fees

Optional tours

Meals, portrage, tip

2011 - 2012 CENTRAL EUROPE BUDAPEST-VIENNA-PRAGUE BY RAIL 08 DAYS

FIRST CLASS HOTELS :

MERCURE OR SIMILAR , MERCURE WIEN CITY , CORINTHIA TOWER OR SIMILAR

For the Period

BETWEEN

AND

land only

air&land

FEB 26

MAR 26

795

1395

APR 02

JUN 18

1095

1695

JUN 25

SEP 03

1075

1635

SEP 10

DEC 10

995

1495

2012

DEC 16

DEC 30

1075

1775

JAN 06

MAR 10

975

1475

SUPERIOR FIRST CLASS HOTELS :

GRAND HOTEL HUNGARIA , MERCURE EUROPAPLATZ , CORINTHIA TOWERS

For the Period

BETWEEN

AND

land only

air&land

FEB 26

MAR 26

895

1475

APR 02

JUN 18

1195

1795

JUN 25

SEP 03

1175

1735

SEP 10

DEC 10

1095

1595

2012

DEC 16

DEC 30

1175

1875

JAN 06

MAR 10

1075

1575

DELUXE HOTELS

NOVOTEL , RENAISSANCE OR SIMILAR , MARRIOTT

For the Period

BETWEEN

AND

land only

air&land

FEB 26

MAR 26

995

1575

APR 02

JUN 18

1295

1895

JUN 25

SEP 03

1275

1835

SEP 10

DEC 10

1195

1695

2012

DEC 16

DEC 30

1275

1975

JAN 06

MAR 10

1175

1675


About us . Destinations . Hot deals . Travel Agents . FAQ
References . Hotels . Terms & Conditions . Contact us



Celebrating more than 1,000 years of history, Prague is the Czech Republic's enchanting capital, with architecture spanning many styles from classical to rococo. Rich in historical monuments and churches, Prague has become known as the "City of A Hundred Spires." Visitors will have to choose from a wide variety of stunning landmarks in this beautiful city, with selections including Hradcany Castle, Golden Gate, St. Vitus' Cathedral, and shopping along the Golden Lane, a street of shops originally built as castle guards' homes.
This enchanting and exotic capital of Hungary straddles the banks of the Danube and is divided into two distinct parts, traditional Buda and more modern Pest. Budapest is aptly called "Paris of the East," for its beautiful evening illumination and reflected lights in the Danube's waters. The old city features amazing examples of architecture such as Buda Castle, the baroque Parliament building, Chain Bridge and Matthias church, where the coronation ceremonies of Hungarian Kings were held. Gellert Hill, high above the city, offers not-to-be missed views.
Most of Vienna's famous sights are in or close to the city centre and they are easy to reach on foot or by public transport.
The city has an astonishing array of monuments, palaces, parks and museums, which house impressive collections of art and artefacts from all over the world and from all periods of history. These two great Austrian artists have become increasingly popular in recent years, especially amongst the British following major exhibitions of their work in London.
Many works by both artists are on exhibition in Vienna's galleries, along with the wealth of fine art you would expect to find in a capital city with such a rich cultural history. Klimt's master work can be seen adorning the walls of the Secession Chapel, whose gold leaf roof is a city landmark.
One of Vienna's most famous landmarks, it was built in 1896 by the English engineer Walter Basset for the World Exhibition and was later immortalised by Graham Greene in the film 'The Third Man'.