1000 Years of History / 09 Days

NORMANDY, BRITTANY AND LOIRE VALLEY
Departure every Friday, Saturday and Sunday.


DAY 01

Depart USA. meals, drinks and in-flight entertainment included

DAY 02

Arrive PARIS , welcome to city of lights,and to your charming hotel remainder of the day is at leisure to enjoy fabulous city with its grand avenues and boulevards and eternal monuments

DAY 03

After breakfast , enjoy a full day sightseeing in Paris , cathedral of Notre Dame, place de la concorde , champs-elysees , Arc de Triomphe , Eiffel tower , free time at landmarks at opera area , ending our tour by a panoramic city tour by cruise (bateau mouche) on the Seine river , Invalides (tomb of Napoleon) . Tonight perhaps enjoy a cabaret show at Lido De Paris or Moulin Rouge ( B )

DAY 04

After breakfast , head west on the road to Rouen , a stopover in rouen and a walking tour in the old town (grande orloge,cathedral and the square where Joan of Arc was burnt on the stake) is highly recommended. Drive through the new built Normandy bridge before arriving to Honfleur .Visit the classical city of Deauville and drive through the Normandy coast and the WW2 landing beaches where you can visit the American Cemetery.You will reach your hotel by nightfall.

DAY 05

After breakfast , you could start your day in Caen and its famous memorial peace museum (highly recommended) or visit the local farms and explore local production with professional farmers.For a pleasant afternoon enjoy a half day Kayak ride on canal Normandy.

DAY 06

After breakfast , drive through Calvados region known as Suisse Normande to Mont St. Michel , visit the Abbey and the village where good tables for lunch could be found ... Bon appetit!. Continue towards the port of Cancale by the bay road -we highly recommend a short photo stop at the grouine point untill you will reach the city of pirates , St. Malo. Overnight in St. Malo

DAY 07

After breakfast , visit St. Malo, take sometime for shopping and relaxing , then visit the beautiful city Dinan and Dinard. Take the road to Angers and enjoy the magnificent views throughout the road.Overnight in Angers

DAY 08

After breakfast , today is dedicated for sightseeing and exploration of the Kings' route of the loire valley , start your journey from Angers then head to Saumur , Amboise and Chenonceau (for families travelling with kids we recommend a visit in the chateau Miniature Park) On the way back to paris , you will pass through Chambord, a great french masterpiece. Overnight in Paris

DAY 09

After breakfast , depending on your scheduled flight back home , you may visit the Montmartre hights or La Defense Departure to airport for your homebound flight arrives the same day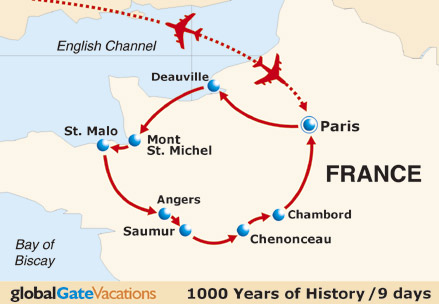 TOUR FEATURES

Scheduled transatlantic flight (round trip from and to NYC)

For supplements from other US gateways please refer to our reservation department

Accommodation at hotels with daily buffet breakfast

03 nights in Paris

02 night in Normandy

01 night in Brittany

01 night in the Loire Valley

Car rental class c for 3 days (based on 4 passengers)

Our special travellers' handbook , including tour description, road maps , hotel details and up-to-date tips

NOT INCLUDED

Entrance fees to monuments and parks.

Lunches and dinners during the tour

Airport taxes and September 11th security fees

2006 - 1000 YEARS OF HISTORY

Comfortable package : Paris Opera St. Georges (**) , Normandy inter hotel le Savoy (**) , Brittany Aquamotel (**) , Loire Acropole (**)

STARTS

ENDS

land only

air & land

FEB 24

MAY 19

955

1455

MAY 26

JUN 30

1055

1555

JUL 07

SEP 01

695

1695

SEP 08

NOV 03

995

1595

NOV 04

DEC 15

1095

1695

DEC 16

JAN 01 ( 2011)

1195

1895

JAN 06

MAR 10

1095

1695

Superior package: Paris Louvre Rivoli (***sup),Normandy Lion d'Or (***sup),Brittany Beaufort (***),Loire Azay -le-rideau(***)

STARTS

ENDS

land only

air & land

FEB 24

MAY 19

1155

1655

MAY 26

JUN 30

1255

1755

JUL 07

SEP 01

1195

1895

SEP 08

NOV 03

1195

1795

NOV 04

DEC 15

1195

1795

DEC 16

JAN 01 ( 2011)

1495

2095

JAN 06

MAR 10

1195

1795

Luxury package : Paris Normandy (****),Normandy Chateau deSully (***),Brittany C.de Bonaban (***sup),Loire C. d'Artigny (****l)

STARTS

ENDS

land only

air & land

FEB 24

MAY 19

1555

2055

MAY 26

JUN 30

1655

2155

JUL 07

SEP 01

1595

2295

SEP 08

NOV 03

1595

2195

NOV 04

DEC 15

1595

2195

DEC 16

JAN 01 ( 2011)

1895

2595

JAN 06

MAR 10

1595

2195

*This program can be arranged by mini bus with driver guide Please refer to our reservation department for details

About us . Destinations . Hot deals . Travel Agents . FAQ
References . Hotels . Terms & Conditions . Contact us



Like all the world's greatest capitals, Paris lives at a fast pace, by day, by night and especially at rush hours. It is divided into 20 arrondissements that spiral out like a snail shell from the first, centered around the Louvre, of which certain quarters like the Montmartre, Montparnasse and the Marais are real villages within the city. Paris is the world capital of art and culture because it has some of the most famous museums and monuments in the world like the Eiffel Tower, the Notre-Dame cathedral and many more. With its history and architectural patrimony, Paris is living, moving and evolving every day.