Jolly Sicily Tour (9 Days)
(Deluxe / Escorted) "Friday Departure"

Palermo - Erice - Cefalu - Messina - Taormina - Syracuse - Agrigento
Full Board "Breakfas,Lunch & Dinner"


DAY 01

Friday -

USA-PALERMO

DAY 02

Saturday PALERMO

Independent arrival al the Jolly hotel Palermo. Enjoy a welcome cocktail, dinner and overnight at your hotel.

DAY 03

Sunday

PALERMO – CEFALU' – PIAZZA ARMERINA – CATANIA

After a buffet breakfast, drive along the Thyrrenian coast towards Cefalù, a pleasant resort well known for its beautiful Norman Cathedral and medieval wash-house built in the rock. Continue to Piazza Armerina and lunch at a local restaurant. After lunch visit of the worldwide famous Villa romana del Casale famed for its well preserved mosaics. Continue to Catania and panoramic tour of the city. Accommodation, dinner and overnight at Jolly hotel.

DAY 04

Monday

CATANIA – MONTE ETNA - TAORMINA - MESSINA

After a buffet breakfast, conditions permitting, excursion till 1800 meters to Mount Etna the highest active volcano of Europe. Continue to Taormina: lunch at a local restaurant. In the afternoon visit the Greek Theater and enjoy time at leisure for shopping or walking through the tiny streets. Continue to Messina: dinner and overnight at Jolly hotel Messina situated in front of the Straight.

DAY 05

Tuesday

MESSINA – REGGIO CALABRIA- SYRACUSE

After a buffet breakfast, sea conditions permitting, embark to Reggio Calabria and visit the famous "Bronzi di Riace". Proceed to Syracuse. Lunch at Jolly hotel. In the afternoon, visit of the archaeological area including the famous Latomie of the Paradise and the Dyonisios "Ear" as well as visit of the island of Ortigia, singular treasure of the baroque style. Dinner and overnight at Jolly hotel.

DAY 06

Wednesday

SIRACUSA – MODICA – RAGUSA - AGRIGENTO

After a buffet breakfast, depart to Modica known for its Baroque architecture and stop at the famous "Cioccolateria Bonajuto". Proceed to Ragusa, whose historical centre "Ibla" is one of the most important testimony of the Baroque architecture. Lunch at a local restaurant.. Proceed to Agrigento and visit of the Valley of the Temples including the Temple of Juno, Concord, Heracles, Zeus, Castor & Pollux. Dinner at Jolly Della Valle. After dinner enjoy an unforgettable panoramic tour of the Valley of the Temples illuminated. Overnight in Agrigento.

DAY 07

Thursday

AGRIGENTO – SEGESTA – ERICE – TRAPANI – PALERMO

After buffet breakfast depart towards Segesta to visit the Doric Temple which keeps in its stone the weight of a long history, surrounded by a unique landscape. Lunch at a local restaurant in Erice, a medieval town full of myth and history, art and environment located at 800 mtrs above the sea. After lunch enjoy an orientation tour of Trapani's salt-mills. Continue to Palermo. Accommodation, dinner and overnight at Jolly Hotel.

DAY 08

Friday

PALERMO- MONREALE

After a buffet breakfast depart to Monreale and visit the Duomo(Cathedral) as well as the Benedictine Cloister which are in pure Norman style. Visit the city of Palermo including the Cathedral, the Palatine Chapel in the Royal Palace as well as a panoramic tour of the historical center. Lunch at Jolly hotel. In the afternoon, time at leisure or enjoy an optional excursion to the Catacombs, the Handcrafts village of Palermo and Mondello. Dinner and overnight at Jolly hotel Palermo.

DAY 09

Saturday

PALERMO

After a buffet breakfast, end of the Tour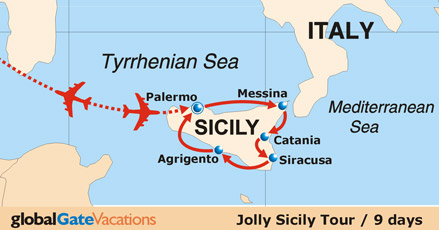 TOUR FEATURES

Scheduled transatlantic flights (Round trip) from and to NYC (Land and Air)

For supplements from other US gateways , please refer to our reservation department

Welcome cocktail

Full board basis (dinner on first day till breakfast on last day) -20 meals-

GT Motorcoach

Tour escort

Local guides where necessary

Ferry Messina-RC-Messina

Porterage at hotels

NOT INCLUDED

Transfers in/out

Entrance fees at monuments

Beverages

Everything which is not clearly specified under "Tour Features"

2012/ 2013 Jolly Sicily 09 Days

Prices are Valid for the period

Between

And

Land Only JOLLY HOTELS

Land & Air JOLLY HOTELS

Jan 18

MAR 28

1745

2545

APR 01

APR 29

1765

2665

MAY 01

MAY 30

1895

2895

JUN 03

JUN 27

1845

2845

JUL 01

JUL 29

1895

2895

JUL 31

AUG 26

1875

2875

AUG 28

SEP 02

1795

2895

SEP 04

SEP 09

1745

2745

SEP 11

OCT 21

1755

2695

OCT 23

NOV 28

1795

2675

DEC 02

DEC 16

1745

2595

DEC 17

DEC 31

1895

2895

JAN 01( 2013)

MAR 12

1745

2595



About us . Destinations . Hot deals . Travel Agents . FAQ
References . Hotels . Terms & Conditions . Contact us



For three millennia Rome has played an essential role in civilization, religion, art, architecture, and gastronomy. Known as the "Eternal City", Rome is home to some of the most remarkable sites in the world, like the Colosseum, Trevi Fountain, and the Vatican, to name just a few. With its mixture of ancient ruins and contemporary living, Rome charms and excites all of her visitors.
Situated on the Gulf of Naples close to Mount Vesuvius, Naples enjoys one of the most attractive scenic settings in the Mediterranean. Naples is a pretty big city (the third largest in Italy) which has a population of 1,200,000 people. Tourists can visit medieval buildings and view Renaissance architecture.