Rome and Medjugorie / 09 Days

Every Saturday . Sunday . Monday


DAY 01

Depart USA to Italy. Your flight includes meals, drinks, and in-flight entertainment

DAY 02

Arrive in Rome, and transfer to your hotel. Balance of day at leisure. Enjoy a welcome dinner at a local restaurant (D): ROME

DAY 03

After breakfast , this morning, attend the Papal Audience at the Vatican and receive the Blessing of the Holy Father. In the afternoon, visit St. John Lateran Church, St. Mary Major Church, Holy Stairs and the Catacombs, which hold the bodies of several early popes (B): ROME

DAY 04

After breakfast , full day tour to Assisi. Depart Rome, via the "Sun Route" motorway. Stop in Orvieto, a small medieval town famous for its cathedral. Spend the day visiting Umbria, rich in vineyards, olive groves and villages. View the charming medieval cities of Spoleto (world-famous for the "Festival dei Due Mondi"), Trevi, Foligno, Spello, and Assisi, the mystic city of St. Francis. Visit the Basilica of St. Mary of the Angels and the Basilica of St. Francis, with the masterpieces of Giotto and Cimabue. Enjoy lunch at a typical local restaurant. Balance of the day at leisure (B, L): ROME

DAY 05

After breakfast , tour the Vatican Museums including the famous Sistine Chapel and see Michelangelo's ceiling and his mural of the Last Judgment. Visit the Roman Forum, walking through the ancient streets. Stop at the Colosseum, the huge amphitheater started in 72 AD. Continue on to visit Basilica of St. Paul's Outside the Walls, built where the Apostle of the People is buried. Visit St. Peter's in Chains Church (B): ROME

DAY 06

After breakfast , this morning, transfer to the airport for your flight to Split. Upon arrival, transfer to your hotel. Orientation tour of the village. Meet with local villagers and join in evening services at St. James Church (B, D): MEDJUGORJE

DAY 07

After breakfast , morning Mass at St. James Church. Visit Apparition Hill where Mary first appeared and climb Holy Cross Mountain. In the evening, attend the recitation of the rosary and the healing service at St. James Church (B, D): MEDJUGORJE

DAY 08

After breakfast , today, participate in your choice of activities including: 10am Mass at St. James, daily recitation of the rosary and the Blessing of the Sick. Farewell dinner (B, D): MEDJUGORJE

DAY 09

Afterbreakfast , transfer back to Split for your homebound flight arrives the same day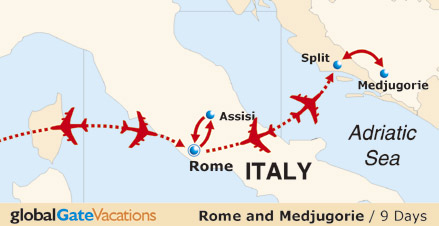 TOUR FEATURES

Scheduled transatlantic flight (round trip ticket) from & to New York

Plane ticket from Rome to Split

Accommodation at hotels in Rome / Medjugorie meals as per itinerary

Arrival transfer as per itinerary

Included sightseeing as per itinerary

Professional tour directors to escort you

NOT INCLUDED

Airport taxes and September 11th security fees

optional tours

meals,portrage,tip


For supplements from other us gateways , please refer to our reservation department

Rome and Medjugorie / 09 Days

STARTS

ENDS

AIR&LAND

(first class)

AIR&LAND

(superior first class)

FEB 14

MAR 21

1795
1875

MAR 28

MAY 30

1855
1995

MAY 29

JUL 04

2295
2475

JUL 11

AUG 22

2395
2495

AUG 29

SEP 05

2195
2275

SEP 12

NOV 07

1955
2095

NOV 14

DEC 12

1895
1995

Summit Roma Hotel

Gioberti Hotel

Pisana Hotel

Holiday Inn St. Giovanni


About us . Destinations . Hot deals . Travel Agents . FAQ
References . Hotels . Terms & Conditions . Contact us



For three millennia Rome has played an essential role in civilization, religion, art, architecture, and gastronomy. Known as the "Eternal City" Rome is home to some of the most remarkable sites in the world, like the Colosseum, Trevi Fountain, and the Vatican, to name just a few. With its mixture of ancient ruins and contemporary living, Rome charms and excites all of her visitors.
Medjugorje ("between the hills") has become well known in Bosnia-Hercegovina, and the world, because of six young people who claim to have seen visions of the Madonna. Beginning on June 24, 1981, the Blessed Mother appeared to, and later told the visionaries God sent her to our world to help us convert our hearts and lives back to Him. Our Lady's call is one of Peace, Love, Faith, Conversion, Prayer, and Fasting. We are each challenged to answer Our Lady's call to change our lives, and hearts back to God. The following articles, interviews, and testimonies provide a well rounded, and accurate account and perspective of one of the greatest events in modern history.
Since 1981, in a small village in Bosnia-Hercegovina named Medjugorje, the Blessed Virgin Mary has been appearing and giving messages to the world. She tells us that God has sent Her to our world and, these years she is spending with us are a time of Grace granted by God. In Her own words She tells us, "I have come to tell the world that God exists. He is the fullness of life, and to enjoy this fullness and peace, you must return to God".
Our Lady's mission is one of peace and love. She has come to earth to reeducate us and to help us convert and recenter our lives back to God. Our Lady's role has always been one of guiding people to Her Son, Jesus. What a fantastic opportunity we have before us! It is important that we understand both the magnitude and the urgency of Our Lady's call to conversion, and that we respond to it with all our hearts.