Portugal - Andalucia and Morocco / 20 Days

Weekly Departure "Guaranteed"
Every Sunday (All the Year Round)


DAY 01

Depart USA. meals, drinks and in-flight entertainment included

DAY 02

Arrive Madrid .transfer by Global Gate Vacations to your hotel

DAY 03

After breakfast , enjoy a guided sightseeing tour to Gran Via , Passeo de la Castellana , the Cervantes monument at the Plaza d'Espagna , Puerta del Sol and Cibeles fountain , proceed to el Prado museum where you will admire the paintings of VELAZQUEZ , return to your hotel.evening free at leisure to explore the Madrileno night life in plazas (del sol, santa anna,...) (B)

DAY 04

MADRID-MERIDA-LISBON

Breakfast , Departure to Mérida. Lunch. After crossing the Portuguese border continuation to Lisbon. Accommodations.

DAY 05

LISBON

Breakfast and accommodations. Morning city sightseeing tour: old Alfama Quarter, Tower of Belem, Monastery of Los Jerónimos, etc. Free afternoon. Optional excursion to Sintra, Estoril, Cascais.

DAY 06

LISBON-FATIMA-LISBON

Breakfast and accommodations. In the morning departure to Fátima, important center of pilgrimage. Free time to visit the Shrine. Return to Lisbon.

DAY 07

LISBON-MERIDA-CORDOBA

Breakfast. Departure for Mérida. Lunch and visit of the famous Roman Theatre. Continuation to Cordoba. Dinner and accommodation.

DAY 08

CORDOBA-SEVILLA

Breakfast. Sightseeing tour visiting the famous Mosque/Cathedral and Jewish Quarter. Departure to Sevilla. Lunch afternoon at leisure. Accommodations.

DAY 09

SEVILLA

Half board in the hotel. Morning city tour, visiting the Park of Maria Luisa, Plaza España and typical Barrio de Santa Cruz. Afternoon at leisure.

DAY 10

SEVILLA-RONDA-COSTA DEL SOL

Breakfast then departure to the Route of the White Villages and Ronda. Free time and continuation to Costa del Sol. Afternoon free. Dinner and accommodations.

DAY 11

COSTA DEL SOL

Half board. Full day at your own leisure. Optional tours.

DAY 12

COSTA DEL SOL

Half board. Full day at leisure.

DAY 13

COSTA DEL SOL-ALGECIRAS-TANGIER-RABAT

Breakfast. Departure for Algeciras to board the ferry crossing the Strait of Gibraltar towards Tangier. Panoramic sightseeing tour. Continuation to Rabat, capital of the Kingdom of Morocco. Dinner and accommodations.

DAY 14

RABAT-CASABLANCA-MARRAKECH

Breakfast. Sightseeing tour visiting the outside of Royal Palace, Mausoleum of Mohamed V and Hassan Tower. After the visit departure to Casablanca. Panoramic rolling tour of this cosmopolitan city and continuation to Marrakech. Dinner and accommodations.

DAY 15

MARRAKECH-MEKNES-FES

Breakfast and morning sightseeing tour of this Imperial city, capital of the South, visiting the Summer Royal Palace, Tombs Saadi, Kotoubia Tower and the famous Djemaa el Fna Square, with incessant activities. After the visit departure to Meknes. Panoramic rolling tour of this walled city and continuation to Fes. Dinner and accommodations.

DAY 16

FES

Half board. Morning city sightseeing visiting the Old Casbah and its IX century streets. Afternoon free to continue discovering this exciting city on your own.

DAY 17

FES-CEUTA-COSTA DEL SOL

Breakfast. Departure to Ceuta, with short time for shopping and to board the ferry back to Algeciras. Continuation to Costa del Sol. Dinner and accommodations.

DAY 18

COSTA DEL SOL-GRANADA

Breakfast. Departure to Granada. Sightseeing tour including the impressive Alhambra with its beautiful Nazari Palace and the Generalife. Dinner and accommodations.

DAY 19

GRANADA-TOLEDO-MADRID

Breakfast and departure towards the Imperial City of Toledo, full of history and monuments. Lunch and city sightseeing throughout its narrow streets and alleys. Continuation back to Madrid. Arrival, Check-in at Hotel.Overnight

DAY 20

MADRID - USA

After breakfast , Transfer to Airport for your Homebound Flight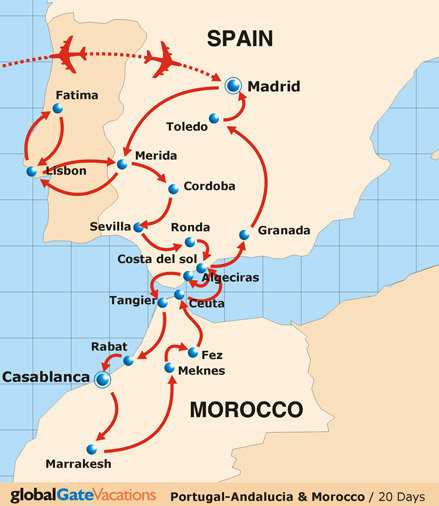 TOUR FEATURES

Scheduled transatlantic flight (from and to NYC)

(for supplements from other US gateways , please refer to our reservation department

Accommodation at hotels (meals as per itinerary)

33 Meals

All transfers

Included sightseeing as per itinerary

Transportation by de luxe motor- coaches, with air conditioning, panoramic windows, and maximum comfort and safety.

Experienced multilingual tour conductors during the tours help you with your room

Local sightseeing tours as indicated, with expert local guides and entrance fees to the monuments.

The professional support of all our team at your service

NOT INCLUDED

Airport taxes and September 11th security fees

To upgrade to First Class Hotels , to add $ 475 per person

2012 / 2013 Portugal , Andalucia and Morocco 20 Days "Every Sunday"

Prices are Valid for the period

Between

And

Land Only TOURIST CLASS HOTELS

Land & Air TOURIST CLASS HOTELS

Jan 18

MAR 28

2195

2995

APR 01

APR 29

2545

3375

MAY 01

MAY 30

2575

3375

JUN 03

JUN 27

2475

3245

JUL 01

JUL 29

2475

3475

JUL 31

AUG 26

2575

3545

AUG 28

SEP 02

2675

3495

SEP 04

SEP 09

2575

3375

SEP 11

OCT 21

2495

3345

OCT 23

NOV 28

2575

3375

DEC 02

DEC 16

2375

3395

DEC 17

DEC 31

2775

3675

JAN 01( 2013)

MAR 12

2275

3175

HOTELS
Madrid
Tryp Rex or similar
Florida Norte or similar
Lisbon
Roma
Cordoba
Tryp Gallos
Sevilla
Derby or America or similar
Costa Del sol
San Fermin or similar
Rabat
Ibis Moussafir
Marrakech
Ibis Moussafir
Fes
Ibis Moussafir
Granada
Los Angeles or similar
FIRST CLASS HOTELS
Madrid
Mayorazgo or similar
Lisbon
Metropolitan
Cordoba
Occidental or similar
Sevilla
Melia Libreros or similar
Costa Del sol
Alay
Rabat
Helnan Chellah
Marrakech
Atlas Asni
Fes
Sofia or Zalagh
Granada
Corona


About us . Destinations . Hot deals . Travel Agents . FAQ
References . Hotels . Terms & Conditions . Contact us



Madrid is an excellent example of the combination of past and present. The capital of Spain since medieval times, Madrid blends the city's historical sites with the lifestyle of a modern metropolis. During the day Madrid is a center of culture and history, while at night the atmosphere changes to a relaxed tone. Whether you are visiting the Royal Palace or having a late night at a disco, something fascinating awaits you in Madrid.
Seville is full of history from the time of the Moorish occupation to the present. In Seville one can find the Alcazar palace, the dominating Giralda and the largest gothic church in Spain. In addition, Seville is home to the romantic Santa Cruz quarter with narrow streets and whitewashed houses, as well as the Plaza de España, the lovely park in the center of town. With so many churches, monuments and museums the holiday maker can only take a glimpse at the rich history and culture of this unique city.
The region of Costa del Sol, located on Spain's southern coast, is home to extravagant beach resorts, quaint country villages, ancient monuments and rolling farmland. One of Spain's most treasured regions, people flock here for the warm sun, long beaches and old-world charm. Whether relaxing by the water, exploring ancient ruins or dancing the night away, Costa del Sol makes all her visitors feel alive.
Well-known for the Moorish Alhambra Palace, Granada is also home to the ancient Albaicin fortress and the famous Cathedral Quarter. With an air of mystery and romance, Granada offers the wonder of its historic monuments and charm of an old-world city.
Founded by the Romans, Cordoba became the capital of Moorish Spain and was later ruled by Christian kings. During the Middle Ages it was one of the most important cities in all of Europe. Today you can still see the Great Mosque and Cathedral, the Alcazar Castle and the Palace. And after a day of sightseeing, you can stroll down the narrow streets of the medieval Jewish Quarter or enjoy a Flamenco dinner show. Cordoba offers a great deal of enchantment to its visitors.