The secrets of the great wines / 07 Days

Paris and Bordeaux with TGV
Departure every Friday, Saturday and Sunday.


DAY 01

Depart USA. meals, drinks and in-flight entertainment included

DAY 02

Arrive PARIS , welcome to city of lights ,and to your charming hotel remainder of the day is at leisure to enjoy fabulous city with its grand avenues and boulevards and eternal monuments

DAY 03

After breakfast , enjoy a full day sightseeing in Paris , cathedral of Notre Dame, place de la concorde , champs-elysees , Arc de Triomphe , Eiffel Tower , free time at land marks at opera area , ending our tour by a panoramic city tour by cruise (bateau mouche) on the Seine river , Invalides (tomb of Napoleon) . Tonight perhaps enjoy a cabaret show at Lido De Paris or Moulin Rouge ( B )

DAY 04

After breakfast , start your day with a trip in the world's fastest train , the TGV which will take you to Bordeaux, the French wine capital (2h. 40 m.) only ,take a tour in Bordeaux the 18th century (city of art) where each monument and every site is worth a visit .Tour the picturesque St. Michel and St. Pierre districts , discover St. Andre cathedral with its works of art and walk through the renovated old quarter ,we recommend a dinner in one of the gastronomic tables of Bordeaux. overnight in a typical hotel or a charming chateau

DAY 05

After breakfast , visit (Maison du Vin de Bordeaux) where you can learn the art of wine tasting and how to identify aromas. Experience a real tasting accompanied by a dish of cheese and delicatessen meats.Tour the wine mechants district , visit the Wine Museum and have a lunch with wine tasting. Take an afternoon excursion to St. Emilion where you can visit the medieval city and experience wine tasting in the wine chateau. Overnight in Bordeaux

DAY 06

After breakfast , continue your wine tour in 3 or 4 wine-producing chateaux (Bourg, Blaye, Graves, Sauters or others) with wine tasting and sightseeing . Private rendez-vous could be organized depending on the season and the day. Some chateaux require reservation please consult with us.You can also visit (La Dune du Pilat) the highest dune in Europe and Arcashon Bay. Take the train back to Paris Explore the city of lights -your way- overnight in Paris

DAY 07

After breakfast , departure to airport for your homebound flight arrives the same day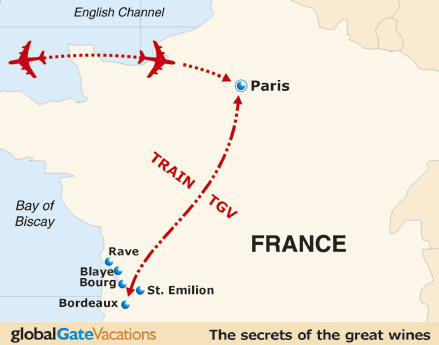 TOUR FEATURES

Scheduled transatlantic flight (round trip from and to NYC)

For supplements from other US gateways please refer to our reservation department

Accommodation at hotels with daily buffet breakfast

03 nights in Paris

02 night in Bordeaux

TGV Paris/Bordeaux/Paris on 2nd class (1st class available with additional charge)

Car rental class c for 3 days (based on 4 passengers)

Our special travellers' handbook , including tour description,road maps , hotel details and up-to-date tips

NOT INCLUDED

Entrance fees to monuments and parks.

Lunches and dinners during the tour

Airport taxes and September 11th security fees

2006. THE SECRETS OF THE GREAT WINES 07 DAYS

Comfortable package :

Paris Pavillon Republique Les Halles(***) , Bordeaux Hotel Bergerac (***)

STARTS

ENDS

land only

air&land

FEB 24

MAY 19

1055

1555

MAY 26

JUN 30

1095

1695

JUL 07

SEP 01

1095

1795

SEP 08

NOV 03

995

1595

NOV 04

DEC 15

1195

1795

DEC 16

JAN 01 ( 2011)

1295

1995

JAN 06

MAR 10

1195

1795

Superior package :

Paris Hotel Louvre Rivoli (***sup) , Bordeaux Hotel de la Presse (***)

STARTS

ENDS

land only

air&land

FEB 24

MAY 19

1235

1735

MAY 26

JUN 30

1275

1875

JUL 07

SEP 01

1275

1975

SEP 08

NOV 03

1175

1775

NOV 04

DEC 15

1295

1895

DEC 16

JAN 01 ( 2011)

1595

2195

JAN 06

MAR 10

1295

1895

Luxury package:

Paris Villa Beaumarchais (****L) ,Bordeaux Hotel Chateau Grand Barrail (****L)

STARTS

ENDS

land only

air&land

FEB 24

MAY 19

1585

1895

MAY 26

JUN 30

1655

2055

JUL 07

SEP 01

1655

2155

SEP 08

NOV 03

1535

1955

NOV 04

DEC 15

1795

2395

DEC 16

JAN 01 ( 2011)

2095

2795

JAN 06

MAR 10

1795

2395

*This program can be arranged by mini bus with driver guide Please refer to our reservation department for details

About us . Destinations . Hot deals . Travel Agents . FAQ
References . Hotels . Terms & Conditions . Contact us



Like all the world's greatest capitals, Paris lives at a fast pace, by day, by night and especially at rush hours. It is divided into 20 arrondissements that spiral out like a snail shell from the first, centered around the Louvre, of which certain quarters like the Montmartre, Montparnasse and the Marais are real villages within the city. Paris is the world capital of art and culture because it has some of the most famous museums and monuments in the world like the Eiffel Tower, the Notre-Dame cathedral and many more. With its history and architectural patrimony, Paris is living, moving and evolving every day.