Affordable Egypt / 08 Days (Deluxe / Escorted)
Daily Departure Guaranteed / All the year round

CAIRO & (NILE RIVER CRUISE ON FULL BOARD)


DAY 01

Depart USA .meals, drinks and in-flight entertainment .

DAY 02

Arrive Cairo Global Gate Vacations meets you on your arrival in Cairo and transfers you to your hotel .the remainder of your day is at leisure to discover the amazing contrasts of ancient and modern Cairo.

DAY 03

After breakfast enjoy a full day sightseeing including the great pyramids of GIZA (PYRAMIDS OF CHEOPS,KHEFREN and MYCERINUS) continue to the Sphinx and the valley of temples, lunch,proceed to the egyptian museum (home of king (TUTANKHAMUN) and discover the priceless treasures (3350 years old) discovered by HOWARD CARTER in 1922 (B L)

DAY 04

After breakfast , transfer to cairo airport for your flight from Cairo to Aswan(possibility of an optional excursion to the mighty temple of Abu simbel by plane before starting your nile river cruise)(235$) upon arrival , proceed to visit the high dam , the unfinished obelisk and the granite quarries then we visit the Isis temple at PHILAE'S island then board our luxury cruise ship check-in & lunch. sail to Komombo to visit the temple of kom ombo built for the falcon & crocodile gods.sail to Edfu dinner (BLD)

DAY 05

After breakfast ,visit the egypt's best preserved cult temple of HORUS you will travel from your cruise ship to temple by horse-drawn carriage .sail to luxor via esna arrive luxor. dinner (B L D )

DAY 06

After breakfast, explore the west bank of the nile, visit the Necropolis of Thebes, the colossi of Memnon, temple of queen Hatshepsut, valley of the queens, valley of kings, lunch on board, evening free at leisure. Dinner & Overnight (BLD)

DAY 07

After breakfast , visit the grand temple of Luxor which dominates the town and the gigantic temple complex at karnak -visit- , the avenue of sphinxes which once streched between both temples luxor and karnak. transfer to luxor airport for flight back to cairo transfer to your hotel in cairo (B)

DAY 08

After breakfast , free time at leisure, transfer to cairo airport for your homebound flight from Cairo arrives the same day.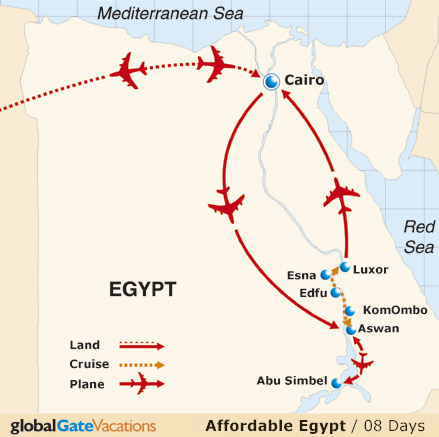 Scheduled transatlantic flight (round trip ticket NYC/Cairo/NYC)(air&land prices)

Intra-egypt flights from cairo to aswan & from luxor to cairo (air&land prices)

03 nights at a deluxe 05 stars hotel -Cairo-

03 nights at a deluxe 05 stars cruise ship

All transfers in cairo,aswan and luxor (air&land prices)

Luxury touring cars

Sightseeing as per itinerary

Professional tour directors escort you

Included Sightseeing

The Great Pyramids of Giza , The Sphinx , The Egyptian Museum with Tut AnkhAmun Treasures

ASWAN HIGH DAM , GRANITE QUARRIES , UNFINISHED OBELISK , TEMPLE OF PHILAE

LUXOR WEST BANK ,VALLEY OF KINGS AND VALLEY OF QUEENS , LUXOR AND KARNAK TEMPLE

2011 / 2012 and 2013 Affordable Egypt 08 DAYS (CAIRO AND NILE CRUISE)

Prices are Valid for the period

Between

And

land only

air & land

OCT 06

DEC 06

995

2175

DEC 13

DEC 13

955

2145

DEC 20

DEC 27

1175

2395

(XMASS &NEW YEAR GALA DINNER MAY APPLY) 2012

JAN 03

FEB 28

955

1955

MAR 01

MAR 31

1095

2145

APR 01

JUN 30

1175

2255

JUL 01

SEP 30

1145

2375

OCT 01

DEC 06

1155

2255

DEC 07

DEC15

1055

2145

DEC 16

DEC 30

1345

2595

(XMASS &NEW YEAR GALA DINNER MAY APPLY) 2013

DEC 31

FEB 28

995

2145

Notes
*This Tour is operated daily all the year round
*In case of no other reservation received on the same date of your travel / Tour will be arranged Privately for you, That means "You will have your own Car, Guide & Driver all the way"
* All prices remain the same in case Tour is operated Privately / NO price increase

About us . Destinations . Hot deals . Travel Agents . FAQ
References . Hotels . Terms & Conditions . Contact us



The modern metropolis of Cairo pulses with activity, yet the past is so close by. The great Pyramids of Giza and Memphis are all within easy reach. Inside the city the world-renowned Egyptian Museum allows a glimpse of the rich heritage of this land. Whether exploring the ancient or living the present, Cairo will leave you with an impression of excitement & awe.
Cairo is Egypt's capital city, and with over 16 million inhabitants, it ranks as one of the largest cities in Africa. This city of contradictions will enthrall you with its ageless charm. The ancient and the modern co-exist in surprising harmony, and the hospitality and friendliness of its people will set you at ease. Historic Cairo includes the wonders of the pharoahs, as well as a religious heritage embodied in the numerous jewish, coptic and islamic monuments that abound.
The southeastern city of Luxor is home to some of the most remarkable ancient monuments in all of Egypt. The vast Karnak Temple Complex, ancient religious and educational center, is one of the most spectacular examples. There is also the Valley of Kings, where the famous tomb of King Tutankhamun was found, and the Valley of Queens, final resting place of Queen Nefertari. In addition to the splendor of its museums and ancient temples, Luxor is also the perfect location to embark on a Nile Cruise.
The southern city of Aswan is one of Egypt's most important attractions. It is one of the sunniest cities in the country, small enough to walk through and enjoys an ideal location on the bank of the beautiful Nile River. Close at hand is Elephantine Island with its pre-dynastic ruins, and Kitchener's Island, home to a lush tropical garden full of exotic plants and flowers. Aswan is the perfect spot to embark on a Nile cruise or simply enjoy the river views from the comfort of your hotel.