Sicily Highlights and palermo
(

9 Days)
(Deluxe / Escorted) "Friday Departure"

Weekly From March to November
Palermo–Monreale–Cefalů–Piazza Armerina– Catania- Syracuse-Taormina-Agrigento–Caltagirone-Selinunte-Salt way Road-Erice


DAY 01

Friday USA-PALERMO

Departure from USA to Italy "Palermo"

DAY 02

Saturday PALERMO

Independent arrival at the hotel. In the afternoon meet with your travel escort for details and informations about the tour. Welcome dinner at a local restaurant and overnight.

DAY 03

Sunday PALERMO-MONREALE

After breakfast, valking tour through the Capital of Sicily, one of the richest town in Sicily for history and art. Visit of the Capo Market, continue to the Massimo Theatre square and visit the Norman Palace with the palatine chapel and Hall of the King Roger II, the Four Corners, the Opera House, the Pretoria Square. Afternoon visit to Monreale to admire the Cathedral with its splendid 12th century mosaics, and the cloister of the Benedictine monastery with Moorish architecture. Return to Palermo Dinner on your own and Overnight.

DAY 04

Monday CEFALU'-PIAZZA ARMERINA

Breakfast in hotel. Depart for Cefalů to visit the Norman Cefalů Dome with outstanding mosaics.Walking through the city centre. Transfer to Piazza Armerina, in the heart of Sici. Time at leisure for Lunch.Visit Roman Villa of Casale, famous for its fantastic mosaics. The tour proceeds to Taormina. Dinner and overnight at the hotel

DAY 05

Tuesday CATANIA – SYRACUSE

After breakfast, excursion to Catania the town well known for its original baroque style and for its streets built with black lava stone from Mt.Etna.Visit of the city centre and the Piazza Duomo with fountain of the ancient elephant. Transfer to Syracuse, the most beautiful ex Greek colony of Sicily Walking to the , the small baroque island of Ortigia. Lunch at a local restaurant. After lunch visit of the Archeological Park with the 5th century BC Greek Theatre, the Roman mphiteatre and the Paradise. Return to Taormina. Dinner and overnight.

DAY 06

Wednesday ETNA-TAORMINA

After breakfast, time for leisure for shopping or own visit of the Roman Greek Theatre with unique view over Calabrian Sea, or optional day-trip over the Mt. Etna

DAY 07

Thursday CALTAGIRONE and AGRIGENTO

After breakfast, visit of Caltagirone known for the production of ceramic, where it is possible to buy a lot of beautiful handmade products.Time at leisure for shopping. Proceed to Agrigento visit a the wonderful Valley of Temples with the Concordia Temple, Heracules Temple, Giunone Temple and Castore and Polluce Temples represent the most beautiful example of the Greek Civilization in Sicily.,Dinner at the Hotel. After Dinner Illumiated Temples Tour. Overnight.

DAY 08

Friday SELINUNTE – SALT WAY ROAD - ERICE

After breakfast, all day long dedicated to the visit of the beautiful area of Trapani, with its vineyards famous all over the world. Visit of Selinunte with the archaeological park, the largest in the Mediterranean Proceed to the Salt Way Road and the Sicilian Windmills. Light lunch in a farmhouse. Afrternoon visit of the fascinating Erice, a small medieval village with ancient Greek origin, situated on a little hill, where it is possible to enjoy a fantastic view on the Egadi Islands and have a nice taste of its typical almonds biscuits. Return to Palermo and dinner in a typical restaurant. Overnight.

DAY 09

Saturday PALERMO - USA

After breakfast, Indipendent Transfer to the Punta Raisi Airport for homebound flight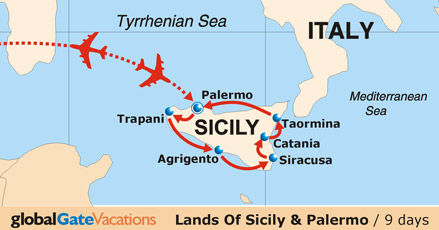 UNBEATABLE FEATURES

1 Welcome Dinner at local restaurant with set-menu + ˝ mineral water

1 Farewell Dinner at local restaurant with set-menu + ˝ mineral water

2 Dinners at hotel with choice of set-menu

1 Lunch at local restaurant with set-menu

7 Breakfasts at hotel buffet-continental style

English speaking Tour Director and guide where necessary;

1 Light-Lunch in agriturismo.

One Farewell cocktail at Olive Oil factory-Farmhouse in Trapani province with tasting of typical local dishes

Not included

Entrance fees

Airport transfers

Extras of personal nature

2012/ 2013 Sicily Highlights with Palermo 09 Days

Prices are Valid for the period

Between

And

Land Only FIRST CLASS HOTELS

Land & Air FIRST CLASS HOTELS

MAR 30

APR 29

1840

2735

MAY 01

MAY 30

1940

2975

JUN 03

JUN 27

1995

2945

JUL 01

JUL 29

1945

2975

JUL 31

AUG 26

1895

2950

AUG 28

SEP 02

1970

2870

SEP 04

SEP 09

1935

2835

SEP 11

OCT 21

1945

2875

OCT 23

NOV 22

1995

2850

MAR 20th ( 2013)

APR 15th

1945

2775



About us . Destinations . Hot deals . Travel Agents . FAQ
References . Hotels . Terms & Conditions . Contact us



For three millennia Rome has played an essential role in civilization, religion, art, architecture, and gastronomy. Known as the "Eternal City", Rome is home to some of the most remarkable sites in the world, like the Colosseum, Trevi Fountain, and the Vatican, to name just a few. With its mixture of ancient ruins and contemporary living, Rome charms and excites all of her visitors.
Situated on the Gulf of Naples close to Mount Vesuvius, Naples enjoys one of the most attractive scenic settings in the Mediterranean. Naples is a pretty big city (the third largest in Italy) which has a population of 1,200,000 people. Tourists can visit medieval buildings and view Renaissance architecture.