Rome And Paris Highlights / 08 Days
(First Class / Independant)

"Daily Departure Guaranteed"
All the year round


DAY 01

USA to ROME

Depart USA to Rome, meals, drinks and in-flight entertainment included

DAY 02

ROME

Arrive Rome , transfer to your hotel. Balance of the afternoon at leisure or enjoy an optional tour illuminated Rome (Rome by night-panoramic) colosseum,capitol hill,imperial forum,the palatine hill,circus massimo,st.peter basilica from outside,on the way back via veneto,piazza republica.end of the tour.(75$) (B)

DAY 03

ROME

After breakfast , Enjoy a visit to Castel S. Angelo - The Vatican Museums (visit) - The Tapestry Gallery - The Raphael Rooms - The Sistine Chapel - The Vatican Library. Afternoon enjoy an (optional) tour visit the basilica of st. paul (outside the walls) , passing by piazza venezia,capitol square,the palatine hill , the forum , colosseum circo massimo , via national , piazza republica ($75). Evening free at leisure (B)

DAY 04

Rome (NAPLES/POMPEI) OR (Overday to Florence)

After breakfast, free day at leisure. Or enjoy an (optional) overday to Naples and Pompei join the Autostrada del Sole. After passing the Castelli Romani, hillsides completely covered by vineyards, we will cross the region of Ciociaria with a view (from the Autostrada del Sole) of the Abbey of Montecassino, completely rebuilt after the 2nd world war. Upon arrival in Naples a panoramic view of the city. Continue to Pompei, where, after lunch in a local restaurant, there will be a visit to the excavations of this famous Roman city which was completely destroyed by the volcanic eruption of Mt. Vesuvius in 79 A.D.
At approx 5.30 p.m. departure for Rome. The arrival is scheduled for 9.30 p.m., traffic permitting.Clients will be accompanied to their hotels, or in the immediate vicinity.($165) (B) OR Overday to Florence

After breakfast , Free day at leisure or an (optional) Tour to Florence. The tour will cross the city and take the Autostrada del Sole, northbound (major Italian highway). During the trip, some of the most beautiful Italian regions will be crossed: Lazio, Umbria and Toscana. Arrival in Florence at approximately 11.30 a.m. The tour of the city will include the Cathedral of Santa Maria del Fiore with Giotto's Bell–tower and Baptistry, the Academy with Michelangelo's David (visit), della Signoria's Square and Palace. Lunch in a typical restaurant will follow. In the afternoon the tour will proceed to Piazza Santa Croce. Free time at your disposal. The drive continues to Piazzale Michelangelo from where a magnificent view of this Renaissance city can be admired, including Ponte Vecchio. At approximately 5.00 p.m. departure for Rome. Arrival is scheduled for 8.30 p.m., traffic permitting.($195) (B)

DAY 05

ROME - PARIS

After breakfast , transfer independently to airport for your scheduled flight to Paris . Arrive Paris , welcome to city of lights by Global Gate Vacations , Transfer independently to your Hotel. Check-in to your hotel , remainder of the day is at leisure to enjoy fabulous city with its grand avenues and boulevards and eternal monuments.

DAY 06

PARIS

After breakfast , morning free at leisure. Afternoon enjoy a panoramic tour in Paris including a strong characteristic of the French people is the respect they have for their history and the restoration of their national monuments. The result of this preservation of the past has greatly contributed to the beauty of Paris today. This tour includes: Place de la Concorde - Avenue Champs-Elysees - Arc de Triomphe - A prestigious and residential area near the Bois de Boulogne - One hour cruise on the Seine river -

A guided visit to the 2nd floor of the Eiffel Tower to admire the superb panorama over Paris. Clients may leave the tour at the Eiffel Tower.

Tour start from a meeting point (minutes from your hotel).Overnight

DAY 07

PARIS

After breakfast , free day at leisure. Or enjoy an (optional) tour discover Paris in depth by visiting the Louvre museum with its famous masterpieces (Monalisa,...) and its different variety of civilisations from ancient egyptian and roman to modern arts ($95). Afternoon stroll along the boulevards and browse in the chic boutiques like Printemps and Galerie La Fayette at the elegant district of Opera. In the evening enjoy an (optional) traditional french soiree at St. Michel and the Latin quarter with its famous old classical french cafes.

DAY 08

PARIS - USA

After breakfast , Transfer Independently to Airport for your homebound flight arrives the same day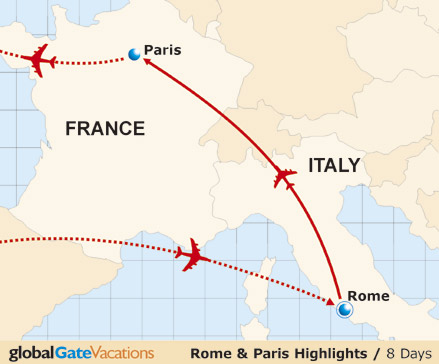 TOUR FEATURES

Scheduled transatlantic flight (round trip ticket) from & to NYC (Land & Air)

For supplements from other US gateways please refer to our reservation department

Accommodation at hotel

with daily breakfast

Arrival Transfer in Rome

Flight between Rome & Paris

NOT INCLUDED

Airport taxes and september 11th security fees

Airport transfers

Optional tours

2012/ 2013 Rome and Paris Highlights 08 DAYS

Prices are Valid for the period

Between

And

Land Only FIRST CLASS

Land & Air FIRST CLASS

Jan 18

MAR 28

1175

1795

APR 01

APR 29

1275

1975

MAY 01

MAY 30

1375

2195

JUN 03

JUN 27

1345

2095

JUL 01

JUL 29

1045

1845

JUL 31

AUG 26

1175

1875

AUG 28

SEP 02

1055

1795

SEP 04

SEP 09

1245

1945

SEP 11

OCT 21

1235

1935

OCT 23

NOV 28

1175

1895

DEC 02

DEC 16

1145

1795

DEC 17

DEC 31

1445

2345

JAN 01( 2013)

MAR 12

1275

1895



About us . Destinations . Hot deals . Travel Agents . FAQ
References . Hotels . Terms & Conditions . Contact us



For three millennia Rome has played an essential role in civilization, religion, art, architecture, and gastronomy. Known as the "Eternal City", Rome is home to some of the most remarkable sites in the world, like the Colosseum, Trevi Fountain, and the Vatican, to name just a few. With its mixture of ancient ruins and contemporary living, Rome charms and excites all of her visitors.
Florence, the "Cradle of the Renaissance", is known for its spectacular artwork, architecture, and literature. During the late Middle Ages Florence was the center of European culture, birthplace of Dante, Donatello, Da Vinci, and Michelangelo. Today you can still see the stunning Duomo with its dominating dome, the Academy of Fine Arts including Michelangelo's David, and the Baptistery featuring Ghilberti's famous bronze door. With one foot firmly planted in the past and the other in the present, Florence is a truly remarkable city.
The city of Venice is built on hundreds of islands, with a hundred more canals separating each island. It is an enchanting city and was a great maritime power during the Middle Ages. You can still see the great monuments of the city: the Basilica of St. Mark, the Dodges Palace and the Bridge of Sighs among others. Or you can just relax as you take a gondola ride through the city's waterways.
Milan is Italy's business, financial and fashion capital. With a strong cultural scene and a thriving nightlife, it is a very urban city. But despite Milan's modernism, one can still visit the past at the Duomo, the last great Gothic cathedral in Italy or the Santa Maria delle Grazie, home of da Vinci's famous "Last Supper". Milan is where the past meets the present and where countless visitors meet the adventure of Italy.