ATHENS . OLYMPIA . DELPHI . KALAMBAKA
Daily Guaranteed Departure


DAY 01

Depart USA , meals , drinks and in-flight entertainment included

DAY 02

Arrive in Athens you will be met by Global Gate Vacations and transferred by private vehicle to your hotel. The remainder of today is at leisure for you to relax after your journey or to start exploring the vibrant city of Athens independently.

DAY 03

After breakfast , Morning departure from your hotel and first stop for a coffee break at the Canal of Corinth. The tour will continue to Mycenae for visiting the famous Palace, the Lions Gate and the Tomb of King Agamemnon. Our next stop will be at Epidaurus for visiting the Ancient Theatre. Driving through the Central Peloponnese, Arcadia, as well as the towns of Tripoli and Megalopolis arrive in Olympia, the cradle of the Olympic Games.Dinner and overnight in Olympia. (B D )

DAY 04

After Breakfast, visit the Sanctuary of the Olympian Zeus. Drive on through the plains of Eliad and Achaia, through Patras, Capital of the Peloponnese. Cross with the ferry boat from Rio to Antirion and passing by Nafpaktos (Lepanto), and Itea. Arrive Delphi dinner and overnight. ( B D )

DAY 05

After Breakfast, visit Castalia Spring and the Sanctuary of Apollo and to the museum. Depart to Kalambaka, passing through numerous picturesque villages and typical towns of Central Greece. Stay overnight in Kalambaka Dinner and overnight. (BD)

DAY 06

After Breakfast, visit Meteora, among striking sceneryn ,perched on top huge rocks which seem to be suspended in Mid-Air, stand ageless Monasteries, where you can see exquisite speciments of Byzantine Art. Return to Athens via Trikala, Lamia, Thermopylae (visit the Leonida΄s Monument) and Kammena Vourla. Arrive Athens early evening.

DAY 07

After breakfast , morning city tour includes The Acropolis and The Pantheon ,temple of Zeus , Hadrian's Arch , in the evening enjoy an optional dinner with traditional folkloric show in a greek taverne.

DAY 08

After breakfast , transfer by Global Gate Vacations to Athens airport for your homebound flight arrives the same day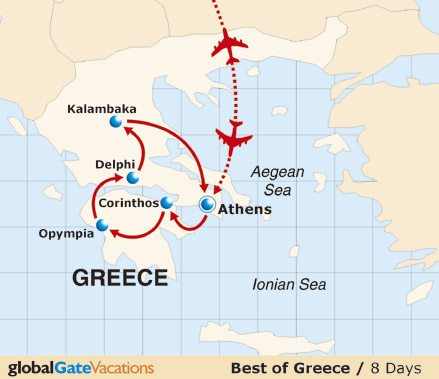 TOUR FEATURES

Scheduled transatlantic flight (from and to NYC) (Air and Land prices)

For supplements from other US gateways , please refer to our reservation department

Accommodation at hotels (breakfasts and dinners) included (in Athens only breakfast )

All transfers (arrival and departure) (Air and Land prices)

Included sightseeing

Professional tour directors to escort you

NOT INCLUDED

Airport taxes and September 11th security fees

optional tour on day 07

Tips

2012 / 2013 BEST OF GREECE 08 DAYS

Between

And

Land Only

Land and Air

Tourist Class

First Class

Tourist Class

First class

FEB 18

APR 29

1375

1575

2175

2375

APR 30

JUN 10

1475

1675

2235

2435

JUN 11

AUG 28

1475

1675

2245

2445

SEP 02

NOV 11

1375

1575

2195

2395

1NOV 19

DEC 10

1375

1575

2245

2445

DEC 17

DEC 31

1575

1775

2475

2675

JAN 07

MAR 18 ( 2013)

1375

1575

2275

2475


About us . Destinations . Hot deals . Travel Agents . FAQ
References . Hotels . Terms & Conditions . Contact us



Founded in prehistoric times, the Greek capital city Athens has now become a thriving metropolis. Despite the urban setting, the city is full of visible history. The remarkable Acropolis, ancient Agora, and Hadrianís Gate all stand as reminders of Athensí long past. But for those who prefer the present, Athens offers shopping in the Plaka, dining in countless fine restaurants and late-night partying at the discos.
One of the most amazing places in Greece, if not the world is Meteora just outside Kalambaka a small village in Northern Greece. The impressive Byzantine monasteries are perched on top of enormous rock formations and this is quite a unique site. Many multi-day tours from Athens include Meteora in their itineraries and visitors stay at hotels located in Kalambaka.
After Acropolis, Delphi is the most popular archaeological site in Greece. Located 180 km from Athens, a trip to Delphi is listed in just about every tour itinerary and is by far the most popular day trip out of Athens. Delphi in ancient times was considered the center of the known world, the place where heaven and earth met. This was the place on earth where man was closest to God.