Best Of Japan / 7 Days (Escorted / First Class)

Tokyo . Mt. Fuji . Hakone . Kyoto . Nara
Daily Guaranteed Departure

/ All the year round


DAY 01

USA / TOKYO

DAY 02

ARRIVE TOKYO

Arrive at New Tokyo International Airport (Narita Airport). Global Gate Vacations staff will meet clients at the customís exit and assist them in boarding airport bus. Transfer to hotel. Accommodations at Shinagawa Prince Hotel (New Tower) for 2 nights.

DAY 03

TOKYO

Morning city tour : Tokyo Tower, Imperial Palace Plaza, Asakusa Kannon Temple, The Tasaki Pearl. Afternoon free at leisure.

DAY 04

TOKYO - MT. FUJI - HAKONE

Deluxe motorcoach to the foot of Mt. Fuji via expressway. Then drive halfway up Japan's highest mountain to enjoy a spectacular view from a height of 2,300 meters. Lunch at Hotel Highland Resort. Afternoon, proceed to Hakone for a cruise on Lake Ashi and Mt.Komagatake Aerial Cableway. Accommodation at Hakone Hotel Kowaki-en with hot spring baths.

DAY 05

HAKONE - KYOTO - NARA - KYOTO

Morning drive to Odawara Station and ride a Shinkansen train to Kyoto. Lunch at New Miyako Hotel.
Afternoon tour to Nara. Visit Todaiji Temple housing Great Buddha, colorful Kasuga Shrine with 3,000 lanterns, and Deer Park where many tame deer are freely roaming.
Return to Kyoto.
Accommodation at New Miyako Hotel for 2 nights.

DAY 06

KYOTO

Morning sightseeing of Kyoto, visiting Golden Pavillon, Nijo Castle noted for its gorgeous interiors(When Nijo Castle is closed, visit Ryoanji Temple instead), and Kyoto Imperial Palace (on Sat., Sun.& national holidays: visit Kitano Tenmangu Shrine or Higashi Honganji Temple instead). After lunch at Kyoto Handicraft Center, Visit Sanjusangendo-Hall, Heian Shrine and Kiyomizu Temple. Return to Hotel.

DAY 07

KYOTO - DEPART FROM OSAKA

Transfer to KANSAI Int'l Airport for departure.

If you need to depart from Narita Airport(Tokyo), we will be able to arrange your itinerary. Please consult us for further information.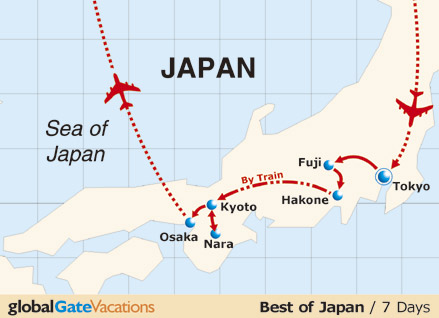 Remarks:

When Nijo Castle is Closed, visit Ryoanji Temple instead.
Remarks on Mt.Fuji - Hakone Tours

Mt.Komagatake Aerial Cableway may be skipped due to traffic conditions without alternative on the following days.
May.1,2,4,5,8; Jul.17,18,23,24,30,31
Aug.6,7,15,16,20,21,27,28; Sep.18,19,24,25
Oct. 9,10,15,16,22,23,29,30; Nov.3,5,&6

When the driveway up to Mt.Fuji's 5th station is closed in winter due to heavy snow, visit Fujiyama Museum instead.

Other visits may also be omitted of substituted depending on traffic and weather conditions or for other operational reasons.

We recommend you to bring an overcoat or other warm clothing during autumn and winter.

Best Of Japan / 07 Days "Daily Departure Guaranteed"

Land only prices Adult 1945 $

Single room extra 845 $

Departure Daily (Jan.5 - Dec.25)
except Feb.17,20; Apr.26,27; May.2,3,4; Jul.15; Aug.10,11; Sep.14,20 & Oct.5

Baggage Your baggage will be transported by land from Tokyo to Kyoto with allowance of one piece per person. For extra baggage, $35will be charged per piece.

For the overnight at Hakone, please bring an overnightbag.

For land & Air prices please refer to our reservation department


About us . Destinations . Hot deals . Travel Agents . FAQ
References . Hotels . Terms & Conditions . Contact us



One of the most populous cities in the world
Center of economy, culture and industries in the world
Tokyo consists of the southwestern part of the Kanto Region, the Izu Islands, and the Ogasawara islands. The population is one of the largest in the world. It is the Capital of Japan where over 11 million people live. Since Shogun Tokugawa Ieyasu established a government in the early 17th century, the town started to develop, spreading around his resident Edo Castle. Although most of the city was devastated by the Great Earthquake of 1923 and again by the bombing in the WWII, it achieved rapid restoration both times.
Kyoto Prefecture, located in the middle of the Main Island of Japan, forms a long shape, extending from the northern coast on the Wakasa Bay, through the Kyoto Basin, up to the southern region bordering on kyoto and Mie Prefectures. The northern coastal area by the Sea of Japan, which includes the Sanin Seaside National Park and the Wakasa Bay Seminational Park, is indeed a rich mine of natural beauties, as Amano Hashidate (sandbar)--one of the scenic trio of Japan--exemplifies. The city of Kyoto lies in the Kyoto Basin, where old-time nature is well preserved, thanks to the characteristics of Kyoto as a "Mecca" of Japan--a country of history and tradition. In addition, the Hiei Mountain, the riverside of Uji, and Kasagi Mountain in the extreme south also preserve the rich nature as it was before.
Hokkaido is Japan's northernmost island, but Cape Soya situated in the northern extremity of the island is in the lower latitude than Paris, and Sapporo City is in the same latitude as Marseilles in southern France. Hokkaido, which is as large as both of Switzerland and Denmark together, accounts for about 22% of the total land mass. Throughout a year, many people visit the prefecture where remain Mighty Nature. It is cool and comfortable in summer and you can enjoy any kind of winter sports in winter. Hokkaido, where you can find Mother Nature, boasts many sight-seeing places which include the hot-spring resorts of Noboribetsu and the Jozankei gorge in Donan (Southern Hokkaido), Shikotsu-Toya National Park, the Shiretoko Peninsula, the Shakotan Kaigan coast, Daisetsuzan National Park which comprises the backbone of the island, the Daisetsu Mountains, and Kushiro Swamp that rare creatures inhabit.