INDIA Palace On Wheels / 9 Days



DAY 01

Depart USA , meals , drinks and in-flight entertainment included

DAY 02

Wednesday Reporting Time:1600 hrs Departure:1830 hrs

New Delhi - The journey begins at the Delhi Cantonment station where the guests will be accorded a warm, traditional welcome before the Palace-On-Wheels pulls out into the night for a week-long luxury cruise through fascinating Rajasthan.

DAY 03

Thursday Arrival: 0200 hrs. Departure: 1930 hrs

Jaipur - You will be welcomed to the Pink city of Jaipur by caparisoned elephants and strains of the Shehnai. To explore the city, an air-conditioned coach takes you first to Hawa Mahal or the Palace of Winds. This is followed by a visit to Amber Fort, eight kms. away. Shop for Jaipur's famous jewellery, handicrafts, carpets, blue pottery and textiles. After lunch at the Rambagh Palace Hotel, visit the City Palace, home of the erstwhile royal family. Right across the road from the City Palace is the Jantar Mantar, the observatory built by Sawai Jai Singh II. The luxury coaches will take you back to Palace-On-Wheels around 1830 hrs. Dinner on board.

DAY 04

Friday Arrival: 0815 hrs. Departure 2300 hrs

Jaisalmer - In the heart of the Thar Desert lies Jaisalmer, founded by Rawal Jaisal in 1156 A.D. Here the yellow sandstone fort is an imposing sight, towering magnificently over the city. Discover the painstakingly latticed havelis or mansions with their grand facades. The Nathmalji-ki-haveli, Patwon-ki-haveli and Salim Singh-ki-haveli are fine examples of the stone carver's skill. Shop for fine pattu shawls, mirror work and embroidered articles, wooden boxes, trinkets, silver jewellery and curios. After lunch on board, go for an exciting camel ride on the sand dunes of Sam. Enjoy dinner and cultural programmes at a hotel in Jaisalmer.

DAY 05

Saturday Arrival: 0700 hrs. Departure: 1530 hrs

Jodhpur - Next morning the Palace-On-Wheels is in Jodhpur, a city ringed by a high stone wall with seven gates and several bastions. This second largest city of Rajasthan, founded by Rao Jodha in 1459 A.D. is known for its rock-solid Mehrangarh Fort. Near the fort complex lies Jaswant Thada and a group of royal cenotaphs made of white marble. After lunch at a Palace Hotel, return to the Palace-On-Wheels. While in Jodhpur shop for exquisite handcrafted articles including the famous breeches, embroidered shoes, metal curios, silverware, paintings and tie and dye fabrics.

DAY 06

Sunday Arrival: 0400 hrs. Departure: 1030 hrs

Sawai Madhopur - The Palace-On-Wheels arrives in Sawai Madhopur, named after its founder Maharaja Sawai Madho Singh I. After breakfast visit the Ranthambhor National Park, considered to be the country's best wildlife sanctuary for observing and photographing the activities of the tiger. Upon return to the Palace-On-Wheels, you leave for Chittaurgarh, when one gets an opportunity to watch the colourful countryside passing by in the daylight.

Sunday Arrival: 1600 hrs.

Chittaurgarh - After lunch on board you are in Chittaurgarh- images of love and valour, scars of battles lost and won. Chittaurgarh Fort is all this and more. Moving legends of honour and pride will echo in your mind as you proceed to Udaipur.

DAY 07

Monday Arrival: 2000 hrs.

Udaipur - The Luxury Coach will take you to Udaipur, the Lake City, the next morning. Perhaps the two most beautiful sites of Udaipur are the dream like marble palaces - the Jag Niwas (Lake Palace) and the Jag Mandir, which appear to rise from the blue waters of Lake Pichola. After lunch at Lake Palace Hotel, a visit to the City Palace is exhilarating. The luxury coach then takes you back to the Palace-On-Wheels at Chittaurgarh.

DAY 08

Tuesday Arrival: 0630 hrs. Departure :0935 hrs

Bharatpur - Early next morning, the Palace-On-Wheels arrives in Bharatpur, the capital of Maharaja Suraj Mal. After breakfast pay a visit to the world famous bird sanctuary, Keoladeo Ghana National Park, the nestling place for thousands of Egrets, Siberian Cranes, migratory Water Fowl and other species of birds.

Tuesday Arrival: 1430 hrs. Departure: 2100 hrs

Agra - Arrive at Fatehpur Sikri- the red sandstone Mughal complex. Within the enclosure is a mosque built by Emperor Akbar and dedicated to Sheikh Salim Chisti, a Muslim Sufi saint who blessed him with a son. After lunch, move on from the Red Fort and arrive at the Taj Mahal, one of the Seven Wonders of the World. A pristine monument of undying love, it was built by Emperor Shah Jahan in memory of his beloved queen Mumtaz Mahal. Agra is known for its splendid marble inlay work like the Pietra Dura Work on the Taj, leather goods and jewellery. Dinner on board.

DAY 09

Wednesday . Delhi Arrive 0600 hrs

Arrive back at Delhi Cantonment station and proceed for onward journey or to take a flight back home.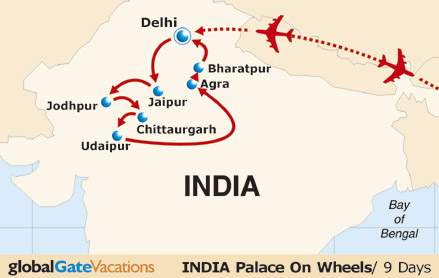 TOUR FEATURES

Scheduled airline flight (round trip ticket NYC/Delhi/NYC) (air&land prices)

Luxury touring private cars (coaches) in case of a group (more than 10 passengers)

Sightseeing as per itinerary

Professional tour directors escort you with local professional guides

NOT INCLUDED

Airport taxes and september 11th security fees

Optional tours

Tips for guide and driver

2011 . The Palace on Wheels, Luxury Train of India ! / 09 Days
Every Tuesday
The Palace on Wheels train operates between September and April every year.

Price per person

Single room

US$ 3975

Sharing Twin room

US$ 3865

Sharing Triple room

US$ 3645

NOTES :

The above cost is per person for accommodation on the Palace on Wheels inclusive of travel, full catering (morning tea, breakfast, lunch, evening tea and dinner) conducted sightseeing tour by Deluxe coaches, entrance fee and still camera charges at monuments and palaces, cultural programs, camel ride, boat ride & rickshaw ride, and all taxes.

Cost does not include liquor, beverages, laundry, video camera charges at monuments, other items of personal nature, pre and post accommodation in Delhi and transfers to / from Delhi railway station.

1 child under 5yrs is accommodated free on Palace on Wheels on room only basis.

Half fare for children between 5 – 12 years of age. Child below 5 years (without bed) free of charge.

Full names, ages, nationalities and passport details required.

Mode of payment :

20% non-refundable payment to confirm the booking (subject to availability)

80% non-refundable payment 40 days prior to date of travel

Cancellation policy :

5 % of ticket value charged for cancellation 65 days prior to departure

20 % of ticket value charged for cancellation 35-64 days prior to departure

50 % of ticket value charged for cancellation 20-34 days prior to departure

100 % of ticket value charged for cancellation 19 days prior to departure

Other cancellations for flight ticket may apply


About us . Destinations . Hot deals . Travel Agents . FAQ
References . Hotels . Terms & Conditions . Contact us



Introduction to Khajuraho : Khajuraho, which has lent its name to a complex of exquisite Hindu and Jain temples, is a small town located amidst the forested plains of Bundelkhand in north-central Madhya Pradesh. The beautiful temples that dot Khajuraho are believed to have been built by the mighty Chandela rulers in the 9th and 10th century AD. The engravings on these temples are highly sensual and erotic that depict in graceful forms intimate scenes of the whole range of human emotions and relationships. These sculptures congeal in stone a lyrical paean to love and passion and reflect the Chandela dynasty/'s immense appreciation for art.
Architecturally, the temples are built in the north Indian Nagara style. The sculptor/'s fine skill and a sense of imagination have given form to human emotion in the form of spiritual and physical love. Every façade—wall, window, pillar, and ceiling—is carved with figures of mythical and historical origins, and while many of these depict full-breasted, girdle-waisted women in forms of innocent play, they also depict carnal love.
In all 85 temples were built in Khajuraho, but only 22 are left to speak of the grandeur of conception of the rulers and architects of the day. The basic ground plan of the temples of Khajuraho is almost a textbook example of Hindu temple architecture consisting of four compartments: an entrance porch (ardhamandap), the vestibule (antarala) and the sanctum sanctorum (garbhagriha). In some of the large temples an extra mandap with lateral transepts is added for size and splendour, converting it into a large assembly hall. The temples rest on a risen open platform, a distinctive feature of the Khajuraho temples, with subsidiary shrines at the four corners of the platform in the bigger temples.
Sightseeing: Khajuraho combines history, architecture, culture and environment with delectable charm. It is a town that takes you away from the noise and pollution of the city, with its fresh air and scenic countryside. For convenience, the temples of Khajuraho are divided into the Western, Eastern, and Southern groups. The Western Group, situated opposite the Government of India Tourist Office, has 14 temples. The Chaunsath Yogini, Lalguan Mahadev, Parvati, Varaha, Matangesvara, Lakshmana, Vishvanath and Nandi, Chitragupta, Devi Jagdamba and Kandariya Mahadeo temples belong to this group. The Eastern Group, 2.4 km from the Tourist Office, consists of seven temples (four Jain and three Hindu). The Parsvanath, Adinath, Shantinath, and Ghantai temples belong to the Jains while the Vamana, Javari and Brahma are Hindu temples. The Southern Group, about 5 km from Khajuraho, contains the Chaturbhuj and Duladeo temples.