All About China / 12 Days "Private Tour"

Beijing . Xian . Nanjing . Wuxi . Suzhou . Hangzhou . Shanghai
Daily Departure "Guaranteed" All the year round / All meals included


DAY 01

USA-BEIJING

Departure USA to Beijing

DAY 02

BEIJING

Greeted by Global Gate Vacations guide at the airport and transfer to hotel (King Wing Hot Spring Hotel) 5* Visit Lama temple , Hu Tong tour , return to hotel . Dinner & overnight

DAY 03

BEIJING

After breakfast , visit the forbidden city , Tian An Men Square , Summer Palace and the Pearl Store -Lunch- , return to hotel Dinner & overnight

DAY 04

BEIJING

After breakfast , visit great wall , the Jad Store , Dingling Mausoleum and the Temple of Heaven -Lunch- , return to hotel Dinner & overnight

DAY 05

BEIJING-XIAN

After breakfast , transfer to airport for flight to Xian . Arrive . proceed for a panoramic city tour in Xian -Lunch- , return to hotel Dinner & overnight (Xian hotel)

DAY 06

XIAN

After breakfast , visit the Terra Cotta worriors and horses , the Huaqing Hot Spring , Big Wild Goose Pagoda -Lunch- return to hotel Dinner & overnight

DAY 07

XIAN-NANJING

After breakfast , transfer to Nanjing -Lunch- check-in to hotel. Dinner & overnight (Nanjing intl. convention center)

DAY 08

NANJING-WUXI

After breakfast , visit dr. Sun Yat-Sen Mausoleum , the former presidential residence (Mellin residence) , the confuctian temple and scenic Belt along the Quinhuai river , drive across Yangtze river Bridge then travel to Wuxi -Lunch- arrive at hotel (Wuxi Picturesque hotel)

DAY 09

SUZHOU

After breakfast , visit the three -Kingdom-film -studio , followed by a cruise on the lake Tai aboard an imitative ancient boat or call at the Turtle-Head Islet , cruise on the lake Tai and call at the picturesque Sanshan Islets then travel to Suzhou (Suzhou China Grarden hotel) Lunch , check-in , dinner & overnight at hotel

DAY 10

HANGZHOU

After breakfast , visit the Chilly Hill temple and the Lingering Garden (Lion Forest Garden) , visit Zhouzhuang (or Wuzhen) , travel to Hangzhou -Lunch , dinner & overnight at hotel (Hangzhou Holiday Inn)

DAY 11

SHANGHAI

After breakfast , visit the west lake , the peak flown from a far , walk along the Su Dongpo Causeway , have a cup of lonjing Tea at Lonjing Tea Village then travel to Shanghai -Lunch,Dinner & overnight (Shanghai hotel)

DAY 12

SHANGHAI-USA

After breakfast , visit Yu Garden , the Bund , pundong New District, Nanpu Bridge , People's Square , Nanjing Road continue to airport for your homebound flight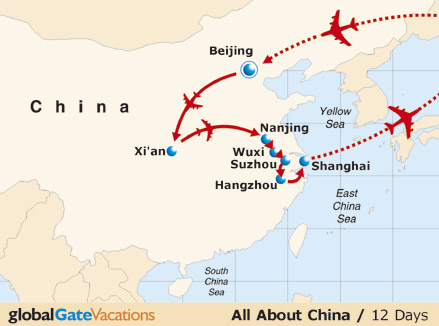 TOUR FEATURES

Accommodation at First class hotels as per Itinerary (or similar standard)

Meals as listed (30 meals)

Transportaion throughout the tour - in PRIVATE-

Tour guides services

Entrance fees

Transfers from and to Airports

NOT INCLUDED

Flight tickets Beijing / Xian / Shanghai ($375)

Domestic airport taxes for all flights ($138)

Tips for drivers and guides

All About China / 12 Days
Price per person
1575 $ (from Jan.24 till may 26 2012)
1875 $ (from May 27 till Nov. 08 2012)
1975 $ (from Nov. 09 till Dec. 05 2012)
2245 $ (from Dec. 06 till Dec. 30 2012)
1675 $ (from Dec. 31 till Mar. 10 2013)
For Land and Air , please refer to our reservation department

About us . Destinations . Hot deals . Travel Agents . FAQ
References . Hotels . Terms & Conditions . Contact us



China's long and colorful history dates back not just centuries but several millennia. As the third largest and most populace nation in the world, China offers not only some of the world's most spectacular scenery, but a diverse and interesting cross section of cultures.
First time visitors may wish to focus on well known cities such as Beijing for the Great Wall and Forbidden City, Xian for the Terra cotta Warriors & Horses, the Yangtze River for the awe-inspiring scenery of the Three Gorges Area, and the vibrant metropolis of Shanghai for shopping. Returning visitors may wish to venture further and explore minority cultures in Yunnan Province, pristine national parks in Sichuan Province, fascinating history along the Ancient Silk Road, or the misty mountain landscapes of Huangshan (Yellow Mountain), to name a few. No matter where you travel in China you are certain to be welcomed by friendly people who are eager to share their history and culture with you. Be prepared for the experience of a lifetime! And remember, as China Travel Specialists, we deliver the quality and value you expect!
Beijing, located in the North, has been China's political and cultural center for the last 800 years. Reigning as both an ancient capital of Imperial China and the modern capital of a thriving nation, Beijing retains plenty of evidence of its royal past, with aristocratic parks, temples, and palaces (all open to the public). Beijing is home to an incredible cultural display of art and historical artifacts in more than 50 museums, folk traditions that flourish in theaters, delicious dining in exotic settings, and cultural centers with fascinating demonstrations of centuries-old arts and crafts. Nowhere else can you get a more concentrated impression of the old and new China. Beijing is the treasure trove of Chinese culture, where many of the sights that make China a world-class destination are located.
Shanghai, whose name literally means "on the sea", is one of the world's largest seaports and one of China's major industrial and commercial centers. It is located on the east coast of China near where the Yangtze River empties into the East China Sea. Shanghai is also China's most populous urban area with 11 million inhabitants.