Golden Yangtze Discovery / 14 Days (Deluxe / Tour & Cruise)

Beijing - Wuhan - Yichang - Yangtze River 5 days Cruise - Chongqing - Xian - Shanghai
Daily Departure "Guaranteed" All the year round
Private Tour (Except on the cruise)


DAY 01

USA - Beijing

Anticipation fills the air as we board our international flight bound for China. Our destination is Beijing, China's historic capital city.

DAY 02

Arrive Beijing

Our flight crosses the International Date Line and lands in Beijing in the evening. After touching down, we are met and transferred to our luxuriously-appointed, five-star hotel accommodation to catch up on sleep.

DAY 03

Beijing

A symbol of national pride, Tiananmen Square, or "Gate of Heavenly Peace", is located in the heart of Beijing. We pass through this, the world's largest public square, and continue on to the Forbidden City, where, for over 500 years, commoners were forbidden to enter. We also visit the regal Summer Palace, the summer home of the emperor and his royal court. We end our busy day by attending an exciting Chinese Acrobatics Show.

DAY 04

Beijing

Built over 2,000 years ago, the Great Wall embodies the magnificence and resilience of Chinese culture. Spanning thousands of miles across five provinces and two autonomous regions, the Great Wall can even be seen from the moon. We descend the Great Wall to visit the Ming Tomb Museum, home to many anclient relics of porcelain, jade carvings, silk, jewels and other precious items. In the evening, we savor a traditionally prepared Peking Duck Feast.

DAY 05

Beijing

A full day is free for us to explore the city of Beijing on our own. An optional tour to the "Hutongs"of Old Town Beijing is available.

DAY 06

Beijing - Yichang - Yangtze River Cruise

Our flight lands in Yichang, where we are met and transferred to the docks. Our Victoria Cruises ship awaits to transport us along the Yangtze River for the adventure of a lifetime.

DAY 07

Yangtze River Cruise

The day begins with a morning excursion to the enormous and controversial Three Gorges Dam. Its completion in 2013 will create new sites and sceneries while submerging others. We reboard the ship in the afternoon, sail through the shiplocks and then journey to breathtakingly beautiful Xiling Gorge.

DAY 08

Yangtze River Cruise

At Wushan, we disembark our ship and board smaller vessels to navigate either Daning River or Shennong Stream for more stunning vistas and a picturesque landscape. In the afternoon, we reboard and pass through the soaring peaks of Qutang Gorge.

DAY 09

Yangtze River Cruise

Today's shore excursion leads us to the fabled "Ghost City" of Fengdu or to Wanxian, which is now a part of the Chongqing Municipality, or to Shibaozhai.

DAY 10

Yangtze River Cruise - Chongqing -Xian

Our Yangtze River cruise ends upon our arrival in Chongqing this morning. We head into town for a brief city tour of this "Mountaintain City" revered for its spicy Sichuan cuisine and Panda Zoo. Later, we fly to Xian, China's ancient capital and the much celebrated starting point of the famed Silk Road. (Chongqing-Xian air ticket given to you in China.)

DAY 11

Xian

The highlight of our sightseeing today is the world-famous, life-sized Terra Cotta Army, one of the greatest archeological discoveries, unearthed 2,200 years after being buried with Emperor Qin Shi Huang. Afterwards, we visit the Big Wild Goose Pagoda. In the evening, enjoy a (optional) special dinner and cultural show recreating the music, costumes and dance of the Tang Dynasty. ($135)

DAY 12

Xian - Shanghai

After breakfast, we are transferred to the airport to board our flight to Shanghai. Upon arrival, we tour China's largest and most vibrant city. Experience the modern sophistication and historical charm of Shanghai as we visit Yu Garden, Nanjing Road and the popular waterfront "Bund".

DAY 13

Shanghai

A full day is free for leisure activities. Spend it resting, shopping or sightseeing. For those who wish, an optional tour to the "Garden City" of Suzhou is available.

DAY 14

Shanghai - USA

The morning is free until we board our homebound international flight and bid a fond farewell to China.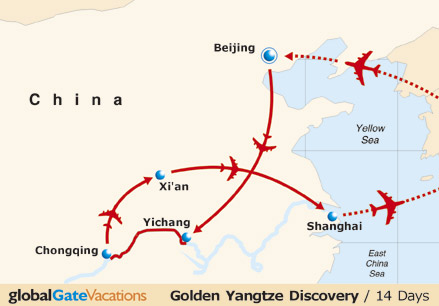 TOUR FEATURES

Accommodation at Deluxe 5*Hotels

Accommodation at Victoria Yangtze River cruise 5*

Tour Package Includes: · Fine Dining:
3 meals a day for the entire trip except free days
Full American or buffet breakfast daily
Chinese or western dinners in hotels or at local restaurants
Local Specialties such as Beijing - Peking Duck Banquet

Special Entertainments:
Beijing - Chinese Acrobatics Show

Round trip trans-Pacific air ticket <![if !vml]>
<![endif]>(Land and Air)

China domestic air tickets <![if !vml]>
<![endif]>(Land and Air)

Comprehensive sightseeing tours and shore excursions as specified

Experienced and knowledgeable tour guides throughout your trip in China

NOT INCLUDED

Airport taxes and September 11th security fees

Tips and optional tour

Golden Yangtze Discovery 14 Days "Daily Guaranteed departure"
Price per person -all the year round- 3455 $ (Land only) from LAX ($195 per person supplement for july , august and December apply)

Price per person -all the year round- 4875 $ (Air &Land) from LAX ($195 per person supplement for july , august and December apply)

Starting September 1, 2005 China domestic airports will no longer collect airport taxes on the spot. Instead, domestic China airport taxes are to be included in the airline tickets issued prior to departure. Thus, we must charge the domestic tax amount as a seperate charge from the tour fare for all tour dates departing after September 1, as listed below:<![if !vml]><![endif]>

Domestic China Airport Taxes (by Gateway)

Domestic China Airport Taxes (by Gateway)

Domestic China Airport Taxes (by Gateway)

New York (JFK)

San Francisco (SFO)

Los Angeles (LAX)

$ 195.00

$ 168.00

$ 138.00

Hotels:

• Yangtze River - Victoria Cruise

• Beijing - New Century Hotel (5 )

• Shanghai - Sofitel Oriental (5 )

• Xian - Bell Tower (5 )


FOR OTHER US GATEWAYS , PLEASE REFER TO OUR RESERVATION DEPARTMENT

About us . Destinations . Hot deals . Travel Agents . FAQ
References . Hotels . Terms & Conditions . Contact us



China's long and colorful history dates back not just centuries but several millennia. As the third largest and most populace nation in the world, China offers not only some of the world's most spectacular scenery, but a diverse and interesting cross section of cultures.
First time visitors may wish to focus on well known cities such as Beijing for the Great Wall and Forbidden City, Xian for the Terra cotta Warriors & Horses, the Yangtze River for the awe-inspiring scenery of the Three Gorges Area, and the vibrant metropolis of Shanghai for shopping. Returning visitors may wish to venture further and explore minority cultures in Yunnan Province, pristine national parks in Sichuan Province, fascinating history along the Ancient Silk Road, or the misty mountain landscapes of Huangshan (Yellow Mountain), to name a few. No matter where you travel in China you are certain to be welcomed by friendly people who are eager to share their history and culture with you. Be prepared for the experience of a lifetime! And remember, as China Travel Specialists, we deliver the quality and value you expect!
Beijing, located in the North, has been China's political and cultural center for the last 800 years. Reigning as both an ancient capital of Imperial China and the modern capital of a thriving nation, Beijing retains plenty of evidence of its royal past, with aristocratic parks, temples, and palaces (all open to the public). Beijing is home to an incredible cultural display of art and historical artifacts in more than 50 museums, folk traditions that flourish in theaters, delicious dining in exotic settings, and cultural centers with fascinating demonstrations of centuries-old arts and crafts. Nowhere else can you get a more concentrated impression of the old and new China. Beijing is the treasure trove of Chinese culture, where many of the sights that make China a world-class destination are located.
Shanghai, whose name literally means "on the sea", is one of the world's largest seaports and one of China's major industrial and commercial centers. It is located on the east coast of China near where the Yangtze River empties into the East China Sea. Shanghai is also China's most populous urban area with 11 million inhabitants.
Xi'an is the cradle of ancient Chinese civilization, with a history dating back to 4000 BC. Known as Chang'an in early times, it was the capital of China for eleven dynasties, up to the 9th century. It is from here that caravans started on the Silk Road to Europe, changing the Western world forever. The extraordinary life-size warrior figures of the 6,000 strong terra cotta army were created to protect the first Qin emperor in the afterlife. Exploring Xi'an is akin to traveling back thousands of years in time. Now the capital of Shaanxi Province, Xi'an is also the political, economic and cultural center of the Northwest, with a population of 2,650,000.