A Tale Of Three Cities / (10 Days)
(First Class / Independant)

London . Paris . Rome
"Daily Departure Guaranteed" All the year round


DAY 01

USA to London

Depart USA to London ,meals , drinks and in-flight entertainment included

DAY 02

London

Arrival in London , transfer independently to your hotel , check-in to your hotel . Remainder of the day is at leisure. Overnight

DAY 03

London

After breakfast , visit London's West End & Westminster Abbey , This tour offers you the chance to see London's most historical sights and includes a visit to Westminster Abbey. Tour starts with a drive through Westminster, past Downing Street, home to the Prime Minister, then on to the Houses of Parliament and the famous Big Ben. The tour stops for a visit inside Westminster Abbey, site of many royal coronations. We visit Poet's Corner to see the tombs of many well-known scientists and monarchs and also the Chapel of Henry VII. The tour then takes you to Buckingham Palace to see the colorful ceremony of the Changing of the Guard. Driving through busy streets and past peaceful parks, the tour continues through Piccadilly, home of London's theatreland and finishes in Trafalgar Square with its impressive Nelson's Column. Tour start from a meeting point minutes from your hotel. Overnight

DAY 04

LONDON

After breakfast , Free day at leisure or enjoy an (optional) tour to The Tower of London & River Cruise The tour commences with a cruise on the River Thames during which a 'Thames Waterman' will point out the places of interest along the way, such as the Houses of Parliament, Tower Bridge and the South Bank. Disembark at the Tower of London, home to the world famous Crown Jewels and host to many dark and bloody secrets, meet the magnificent Beefeaters, clad in their Tudor uniforms, hear the legend of the ravens and some spine chilling tales from the Tower's 900 year history. See the infamous Bloody Tower where the Princes were murdered, Beauchamp Tower where visitors can read carved inscriptions of past prisoners, and Traitors Gate where those unlucky enough had their heads impaled. As the afternoon ends we drive back through the City of London, past Mansion House (home of the Lord Mayor of London), the bank of England and St Paul's Cathedral. ($85). Tour start from a meeting point minutes from your hotel. Overnight

DAY 05

LONDON - PARIS

After breakfast , after breakfast , transfer independently to Airport for flight to Paris. Arrival at the city of lights . Transfer independently to Hotel. Check-in to your hotel , remainder of the day is at leisure to enjoy fabulous city with its grand avenues and boulevards and eternal monuments

DAY 06

PARIS

After breakfast , morning free at leisure. Afternoon enjoy a panoramic tour in Paris including a strong characteristic of the French people is the respect they have for their history and the restoration of their national monuments. The result of this preservation of the past has greatly contributed to the beauty of Paris today. This tour includes: Place de la Concorde - Avenue Champs-Elysees - Arc de Triomphe - A prestigious and residential area near the Bois de Boulogne - One hour cruise on the Seine river - A guided visit to the 2nd floor of the Eiffel Tower to admire the superb panorama over Paris. Clients may leave the tour at the Eiffel Tower.

Tour start from a meeting point (minutes from your hotel).Overnight

DAY 07

PARIS

After breakfast , (optional) tour discover Paris in depth by visiting the Louvre museum with its famous masterpieces (Monalisa,...) and its different variety of civilisations from ancient egyptian and roman to modern arts.Afternoon stroll along the boulevards and browse in the chic boutiques like Printemps and Galerie La Fayette at the elegant district of Opera. In the evening enjoy the traditional French soiree at St. Michel and the Latin quarter with its famous old classical French cafes. ($95) Tour start from a meeting point (minutes from your hotel). Overnight

DAY 08

PARIS - ROME

After breakfast , departure to airport for your flight to Rome . Arrive Rome. Remainder of the day is free at leisure. Or perhaps an (optional) tour to discover Rome by Night "Illuminated Rome" Visiting Piazza dell'Esquilino - San taMaria Maggiore Basilica - Piazza Venezia - Colosseum - Palatino - Theatre of Marcellus - the Capitol - Castel Sant'Angelo - The Vatican City with St. Peter's Basilica - Piazza Navona (stop) - Via del Corso - Trevi Fountain (stop) - Piazza dell'Esquilino ($75)

DAY 09

ROME

After breakfast , Enjoy a visit to Castel S. Angelo - The Vatican Museums (visit) - The Tapestry Gallery - The Raphael Rooms - The Sistine Chapel - The Vatican Library. Afternoon enjoy an (optional) tour visit Aurelian Walls - Via Veneto - Piazza Venezia (stop) - The Capitol Square (visit) - View of Roman Forum - Historical Maps - Church of San Pietro in Vincoli with Michelangelo's statue of Moses - Colosseum - Arch of Costantine - Arch of Titus - The Pyramid of Caius Cestius - The Basilica of St. Paul outside the walls (visit) - Circo Maximus.
($75). Evening free at leisure (B)

DAY 10

ROME - USA

After breakfast , transfer by Global Gate Vacations to airport for your homebound flight arrives the same day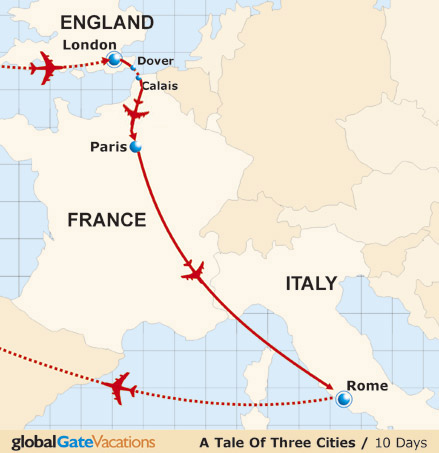 TOUR FEATURES

Scheduled transatlantic flight (round trip ticket) from & to NYC (Land & Air)
(For supplements from other US gateways please refer to our reservation department)

Flights London / Paris and Paris / Rome (Land & Air)

Accommodation at hotel

with daily breakfast

Sightseeing as per itinerary

Guiding fees

Departure transfer in Rome (Land & Air)
NOT INCLUDED

Airport taxes and september 11th security fees

Optional tours

2012/ 2013 A Tale of Three Cities 10 Days (First Class / Independant)

Prices are Valid for the period

Between

And

Land Only FIRST CLASS

Land & Air FIRST CLASS
| | | | |
| --- | --- | --- | --- |
| Jan 18 | MAR 28 | 1185 | 1835 |
| APR 01 | APR 29 | 1295 | 2295 |
| MAY 01 | MAY 30 | 1475 | 2595 |
| JUN 03 | JUN 27 | 1445 | 2495 |
| JUL 01 | JUL 29 | 1245 | 2595 |
| JUL 31 | AUG 26 | 1235 | 2475 |
| AUG 28 | SEP 02 | 1275 | 2275 |
| SEP 04 | SEP 09 | 1275 | 2245 |
| SEP 11 | OCT 21 | 1475 | 2345 |
| OCT 23 | NOV 28 | 1195 | 2295 |
| DEC 02 | DEC 16 | 1245 | 2195 |
| DEC 17 | DEC 31 | 1575 | 2745 |
| JAN 01( 2013) | MAR 12 | 1285 | 1995 |




About us . Destinations . Hot deals . Travel Agents . FAQ
References . Hotels . Terms & Conditions . Contact us



Much of today's London would still be recognizable to a Victorian time-traveller - the Houses of Parliament, Tower Bridge, the imposing railway terminal at Paddington, King's Cross, St. Pancras and the exuberant Royal Courts of Justice. While London continued to expand exponentially, it also pioneered the infrastructure that makes a modern metropolis function - drains, artificial lighting, hospitals, parks, schools, public libraries and theatres - the world's first. Underground railway, tramways - at first horse-drawn, then electric - apartment blocks, town halls, a fire brigade and last but not least, vast cemeteries, such as those at Highgate, Brompton or Kensal Green.
Like all the world's greatest capitals, Paris lives at a fast pace, by day, by night and especially at rush hours. It is divided into 20 arrondissements that spiral out like a snail shell from the first, centered around the Louvre, of which certain quarters like the Montmartre, Montparnasse and the Marais are real villages within the city. Paris is the world capital of art and culture because it has some of the most famous museums and monuments in the world like the Eiffel Tower, the Notre-Dame cathedral and many more. With its history and architectural patrimony, Paris is living, moving and evolving every day.
For three millennia Rome has played an essential role in civilization, religion, art, architecture, and gastronomy. Known as the "Eternal City", Rome is home to some of the most remarkable sites in the world, like the Colosseum, Trevi Fountain, and the Vatican, to name just a few. With its mixture of ancient ruins and contemporary living, Rome charms and excites all of her visitors.