Paris with French Riviera / 08 Days

PARIS . NICE . CANNES AND MONTE CARLO
EVERY FRIDAY , SATURDAY AND SUNDAY


DAY 01

Depart USA .meals , drinks and in-flight entertainment included

DAY 02

Arrive Paris , welcome to city of lights by Global Gate Vacations , transfer to your hotel , remainder of the day is at leisure to enjoy fabulous city with its grand avenues and boulevards and eternal monuments.

DAY 03

After breakfast , enjoy a full day sightseeing in Paris , cathedral of Notre Dame, place de la concorde , champs-elysees , Arc de Triomphe , Eiffel Tower , free time at landmarks at Opera area , ending our tour by a panoramic city tour by cruise (bateau mouche) on the Seine river , Invalides (tomb of Napoleon) . Tonight perhaps enjoy a cabaret show at Lido De Paris or Moulin Rouge ( B )

DAY 04

After breakfast , discover paris in depth by visiting the Louvre museum with its famous masterpieces (Monalisa,...) and its different variety of civilisations from ancient egyptian and roman to modern arts (55$). Afternoon stroll along the boulevards and browse in the chic boutiques like Printemps and Galerie La Fayette at the elegant district of Opera. In the evening enjoy the traditional french soiree at St. Michel and the Latin quarter with its famous old classical french cafes. ( B )

DAY 05

After breakfast , free day at leisure or enjoy an optional overday to Versailles Palace and Gardens with its taste of the glorious old french empire (75$) ( B )

DAY 06

After breakfast , early departure to Nice by TGV (high speed train) .Arrival in Nice.Check-in your hotel. Evening at leisure to discover this typical french riviera city with its Promenade Des Anglais . (B )

DAY 07

After breakfast , discover Monte Carlo with its famous casino, panoramic city tour at cannes viewing the international film festival hall with its famous stairs -movie stars step on (55$). In the evening explore deep french riviera on your own , perhaps a traditional dinner with local specialities in a typical restaurant ( 75 $ ) ( B )

DAY 08

After breakfast , transfer to airport for homebound flight arrives the same day.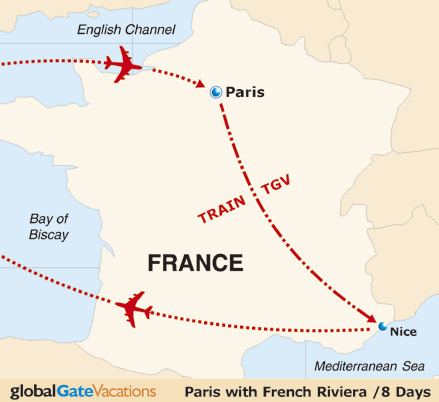 TOUR FEATURES

Scheduled transatlantic flight (round trip ticket) from & to NYC

For supplements from other US gateways please refer to our reservation department

Accommodation at hotels (meals as per itinerary)

T G V (high speed train) Paris/Nice

Arrival transfer in Paris

Included sightseeing as per itinerary

Professional tour directors to escort you

NOT INCLUDED

Final transfer in Nice

Optional tours and tipping

Transfer from hotel to station and v.v. in (Paris & Nice)

Airport taxes and september 11th security fees

2006 . PARIS WITH FRENCH RIVIERA 08 DAYS

STARTS

ENDS

land only

air & land

FEB 24

MAY 19

855

1375

MAY 26

JUN 30

955

1455

JUL 07

SEP 01

1095

1675

SEP 08

NOV 03

955

1455

NOV 04

DEC 15

995

1595

DEC 16

JAN 01 ( 2011)

1195

1775

JAN 06

MAR 10

1095

1595

PARIS : MERCURE OPERA GARNIER OR LIBERTEL AUTEUIL

NICE : NICE RIVOLI OR SIMILAR

*This program can be arranged by mini bus with driver guide Please refer to our reservation department for details

About us . Destinations . Hot deals . Travel Agents . FAQ
References . Hotels . Terms & Conditions . Contact us



Like all the world's greatest capitals, Paris lives at a fast pace, by day, by night and especially at rush hours. It is divided into 20 arrondissements that spiral out like a snail shell from the first, centered around the Louvre, of which certain quarters like the Montmartre, Montparnasse and the Marais are real villages within the city. Paris is the world capital of art and culture because it has some of the most famous museums and monuments in the world like the Eiffel Tower, the Notre-Dame cathedral and many more. With its history and architectural patrimony, Paris is living, moving and evolving every day.
Located in the Grasse region, in the department of the Alpes-Maritimes, Cannes owes its brilliant expansion to tourism. In 1834, Lord Brougham, a former Lord Chancellor of England, "discovered" this unimportant fishing village and, falling in love with the Provence charm, decided to turn it into a booming tourist resort. The Hôtel Gonnet de la Reine, the first luxury hotel on the Croisette, was built in 1858, and the Winter Casino in 1907, where the Palais des Festivals now stands. The first Cannes Film Festival took place in 1946. The city's population (70,000 inhabitants) literally doubles, if not triples, in the summer season, between July 15 and August 15, as well as during the Festival
Monaco, an ancient principality steeped in a rich and colorful history, is considered by many to be Europe's most fascinating country. Though the Principality covers but one square mile, it stands as a proud monarchy with his Serene Highness Prince Rainier III as its head of state. Today people visit Monaco and its glittering district Monte-Carlo not simply to have a vacation, not just to test their standing with lady luck, nor merely to see and be seen, but to revel in the memorable life-enhancing experience that is Monaco.
In fact, everything is accentuated in Nice, the light is so bright that the colours are flashing. The pines are green and are happily rubbing shoulders with the blue shades of the Mediterranean Sea and the sky, the sun is highlighting the yellow tones of the flowers, the ochre sides of the houses, in a natural setting of rocks and hills : it is indeed easy to understand the fascination exerted by the Côte d'Azur on the artists, painters, writers, sculptors, musicians, who contributed to her fame and to whom the museums of Nice are paying a deserved tribute.