GRAND TOUR OF GREECE / 10 DAYS

ATHENS . MYKONOS . SANTORINI
Daily Guaranteed Departure


DAY 01

Depart USA , meals , drinks and in-flight entertainment included

DAY 02

Arrive in Athens you will be met by Global Gate Vacations and transferred by private vehicle to your hotel. The remainder of today is at leisure for you to relax after your journey or to start exploring the vibrant city of Athens independently.

DAY 03

After breakfast, this morning you will have an English-speaking guide for a half day sightseeing tour of Athens. Today you will see the principal monuments and sites of the city, including Athens Stadium, the Temple of Olympian Zeus, Hadrianís Arch and the Theater of Dionyssos. You will also have the opportunity to visit monuments that most symbolize Athens - the Acropolis. The highlight of your tour to the Acropolis will be the Parthenon, one of the most important ancient monuments in the Western world that was dedicated to the Goddess Athena and conceived in 447BC. Your tour will end today at the Acropolis Museum that exhibits sculptures and reliefs from the site. Overnight at hotel.

DAY 04

After an early breakfast this morning you will be privately transferred to Piraeus harbor to board a fast ferry to the island Mykonos (3.5 hours.) Upon arrival in Mykonos you will be transferred directly to your hotel. The remainder of your day will be at leisure.

DAY 05

After breakfast , day at leisure on this beautiful island to enjoy the Sun , the wonderful Sandy beaches and the incredible night life. Overnight at the hotel.

DAY 06

After breakfast , today you will be privately transferred to Mykonos port to board your fast ferry to Santorini (3 hours.) Upon arrival in Santorini, considered to be the most spectacular of all the Greek islands, you will be transferred to your hotel.

DAY 07

After breakfast , day at leisure on the most romantic island to enjoy the magnificent view of the Caldera and the Volcano , and to enjoy walking time in Fira town . Overnight at the hotel.

DAY 08

After breakfast , Morning transfer to the pier to board ferry back to Piraeus. On arrival Transfer to hotel.Overnight at the Hotel.

DAY 09

After breakfast , today explrore deep Athens , traditional flea market . In the evening enjoy an optional dinner at a typical traditional greek taverne with folkloric show.

DAY 10

After breakfast , Your highlights of Greece tour has come to an end this morning and arrangements will be made to transfer by private vehicle to Athens airport for your homebound flight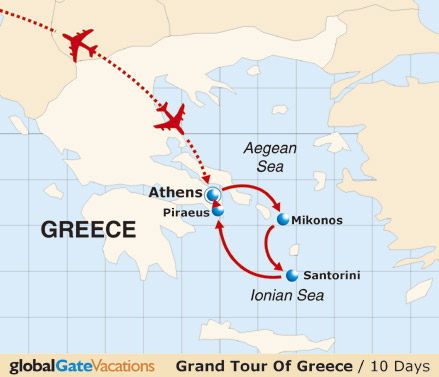 TOUR FEATURES

Scheduled transatlantic flight (from and to NYC) (Air and Land prices)

For supplements from other US gateways , please refer to our reservation department

Accommodation at hotel

All transfers (arrival and departure) (Air and Land prices)

All transfer from and to boats (Air and Land prices)

Included sightseeing

Professional tour directors to escort you

Speed Boat Pireaus-Mykonos

Flying Cat Mykonos-Santorini

Ferry boat Santorini-Pireaus

Port taxes

NOT INCLUDED

Airport taxes and September 11th security fees

optional tour on day 09

Tips

2012 GRAND TOUR OF GREECE / 10 DAYS

STARTS

ENDS

TOURIST CLASS

FIRST CLASS

land only

air&land

land only

air&land

JAN 20

APR 10

1275

1995

1375

2095

APR 17

MAY 22

1375

2175

1495

2275

MAY 29

SEP 04

1375

2245

1495

2345

SEP 11

OCT 02

1375

2095

1495

2195

OCT 09

NOV 20

1255

2145

1375

2245

NOV 27

DEC 11

1355

1995

1375

2095

DEC 18

DEC 25

1555

2475

1575

2575

JAN 01

MAR 12 ( 2013)

1355

2175

1375

2275


About us . Destinations . Hot deals . Travel Agents . FAQ
References . Hotels . Terms & Conditions . Contact us



Founded in prehistoric times, the Greek capital city Athens has now become a thriving metropolis. Despite the urban setting, the city is full of visible history. The remarkable Acropolis, ancient Agora, and Hadrianís Gate all stand as reminders of Athensí long past. But for those who prefer the present, Athens offers shopping in the Plaka, dining in countless fine restaurants and late-night partying at the discos.
The sunny island of Mykonos is a vacationerís dream come true. Known as the most cosmopolitan of the Greek Isles, it offers deep blue waters, sandy beaches and a thriving nightlife. On the other hand, the charm of whitewashed houses, blue-domed churches and traditional windmills makes this an island paradise.
Home to the fabled legend of Atlantis, Santorini is one of the most alluring and romantic of all the Greek Isles. Santoriniís breathtaking caldera and dark sandy beaches are the legacy of its ancient volcanic birth. In addition to the islandís enchanting natural splendor, it also has quaint villages, remarkable archeological sites, and a magical atmosphere unique to the island.