Grand Tour of Egypt / 15 Days
Daily Departure Guaranteed / All the year round

CAIRO . NILE CRUISE WITH Sharm E Sheikh new* (Red Sea)


DAY 01

Depart USA. meals, drinks and in-flight entertainment.

DAY 02

Arrive cairo Global Gate Vacations meets you on your arrival in cairo and transfers you to your hotel .the remainder of your day is at leisure to discover the amazing contrasts of ancient and modern cairo .

DAY 03

After breakfast enjoy a full day sightseeing including the great pyramids of GIZA (PYRAMIDS OF CHEOPS,KHEFREN and MYCERINUS) continue to the sphinx and the valley of temples ,lunch,proceed to the egyptian museum(home of king (TUTANKHAMUN) and discover the priceless treasures (3350 years old)discovered by HOWARD CARTER in 1922 this evening enjoy a sound and light show at the great pyramid (33$)(B L)

DAY 04

After breakfast , transfer to Cairo airport for your flight from Cairo to Aswan(possibility of an optional excursion to the mighty temple of Abu simbel by plane before starting your nile river cruise)(235$) upon arrival to Aswan , transfer to your cruise ship , check-in to your elegant hotel boat in time for lunch .in the afternoon a special treat , board on a felucca and sail to the other side of the nile across the blue waters of the river.en route see the ancient nilometer on elephantine island , kitchener island' lush botanical gardens and the magnificent Agha Khan mausoleum on the left bank of the nile(B L D)

DAY 05

After breakfast ,enjoy a magnificent full day to the high dam,the unfinished obelisk and the granite quarries then we visit the Isis temple at Philae's island then board our luxury cruise ship, lunch. sail to Komombo to visit the temple of kom ombo built for the falcon & crocodile gods.sail to edfu dinner (B L D )

DAY 06

After breakfast, visit the egypt's best preserved cult temple of Horus you will travel from your cruise ship to temple by horse-drawn carriage. sail to luxor via Esna arrive luxor. dinner (B L D )

DAY 07

After breakfast, explore the west bank of the nile to visit the necropolis of thebes, the colossi of Memnon, temple of queen Hatshepsut, valley of the queens, valley of kings, lunch on board, evening free at leisure.enjoy an optional sound and light show at karnak temple (33$)(B L D )

DAY 08

After breakfast, disembark the cruise. visit the grand temple of luxor which dominates the town and the gigantic temple complex at karnak -visit-, the avenue of sphinxes which once streched between both temples luxor and karnak transfer to sofitel winter palace luxor.afternoon free at leisure (B)

DAY 09

After breakfast , transfer to luxor airport for flight to SHARM EL SHEIKH, arrive transfer to your hotel. remainder of your day is at leisure (B)

DAY 10

after breakfast , enjoy an optional tour visiting St. Catherine monastery , Wadi al Raha and MOSES mountain.lunch included (135$) .return to your hotel balance of the day at leisure enjoy the perle of the red sea.(B)

DAY 11

After breakfast , free day at leisure for sun bathes and sea water activities such as diving (if interested) or enjoy a short glass boat trip to explore the magnificent red sea corals.balance of the day at leisure.in the afternoon transfer to airport for your flight back to cairo. arrive in cairo, transfer to your hotel.(B)

DAY 12

After breakfast ,today at leisure to discover cairo on your own or enjoy full day tour to alexandria EGYPT's second largest city & main port founded by Alexander the great in 331 bc , explore the well preserved ruins of the roman amphitheater , continue to alexandria library ,the greco roman museum , kayetbay citadel , the montazah gardens including the palace of king FAROUK (from outside) last king of the former royal family of EGYPT lunch included(135$)return to your hotel in cairo (B)

DAY 13

After breakfast free at leisure or enjoy an optional excursion with your egyptologist and travel companions for all day sightseeing tour at memphis to admire the 40-foot statue of RAMSES II and the alabaster SPHINX.on to SAKKARA stairway to the sky the oldest of all pyramids in the afternoon to walled old cairo SALADIN'S 12th century citadel , the alabaster mosque and the labyrinthine bazaar are well worth a visit lunch included(95$)(B)

DAY 14

After breakfast , morning excursion to old cairo discover the coptic Cairo visit al muallaka church which was been built at the christian south gate of babylon fortress BEN EZRA synagogue which contains a rich jewish heritage library afternoon at leisure (B) in the evening enjoy an optional dinner with entertainment (with folkloric ,traditional show) on the nile (65$) (B)

DAY 15

After breakfast, free time at leisure, transfer to Cairo airport for your homebound flight from cairo arrives the same day.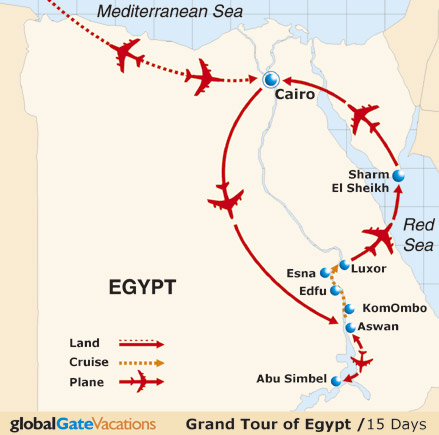 TOUR FEATURES

Scheduled transatlantic flight (round trip ticket NYC/Cairo/NYC)(air&land prices)

Intra-egypt flights from cairo to aswan , from luxor to sharm el sheikh and from sharm el sheikh to cairo (air&land prices)

06 nights at a deluxe 05 stars hotel -cairo-

04 nights at a deluxe 05 stars cruise ship

01 night at a deluxe 05 stars hotel -luxor

02 nights at a deluxe 05 stars hotel -sharm el sheikh-

All transfers in cairo,aswan , luxor &sharm el sheikh (air&land prices)

Luxury touring cars

Sightseeing as per itinerary

Professional tour directors escort you

Included Sightseeing

GREAT PYRAMIDS OF GIZA AND THE SPHINX , EGYPTIAN MUSEUM (KING TUTANKHAMUN'S TREASURES)

OLD COPTIC CAIRO , MUALLAKA CHURCH , BEN EZRA SYNAGOGUE

ASWAN HIGH DAM , GRANITE QUARRIES , UNFINISHED OBELISKTEMPLE OF PHILAE

LUXOR WEST BANK ,VALLEY OF KINGS AND VALLEY OF QUEENS , LUXOR AND KARNAK TEMPLE


NOT INCLUDED

Airport taxes and September 11th security fees

Optional tours

Tips to guide and driver

All drinks on board of your cruise ship

Nile View Rooms at Semiramis Intercontinental Hotel Cairo $35 per room per night


Cruise itinerary is subject to change

On occasion there may be the possibility of a slight alternation in the itinerary due to the sailing conditions on the nile , domestic air schedule , religious holidays

In any case all included visits will be operated

Intra-egypt flights must be purchased at an additional cost (in case of land only)

For supplements from other US gateways (please refer to our reservation department)

2011 / 2012 and 2013 Grand Tour of Egypt / 15 Days

Prices are Valid for the period

Between

And

land only

air & land

OCT 06

DEC 06

1945

3075

DEC 13

DEC 13

1845

2995

DEC 20

DEC 27

2195

3445

(XMASS&NEW YEAR GALA DINNER MAY APPLY) 2012

JAN 03

FEB 28

1975

MAR 01

MAR 31

2095

3145

APR 01

JUN 30

2175

3295

JUL 01

SEP 30

2145

3475

OCT 01

DEC 06

2155

3255

DEC 07

DEC15

2055

3145

DEC 16

DEC 30

2295

3575

(XMASS &NEW YEAR GALA DINNER MAY APPLY) 2013

DEC 31

FEB 28

2095

3295

Notes
*This Tour is operated daily all the year round
*In case of no other reservation received on the same date of your travel / Tour will be arranged Privately for you, That means "You will have your own Car, Guide & Driver all the way"
* All prices remain the same in case Tour is operated Privately / NO price increase


About us . Destinations . Hot deals . Travel Agents . FAQ
References . Hotels . Terms & Conditions . Contact us



The modern metropolis of Cairo pulses with activity, yet the past is so close by. The great Pyramids of Giza and Memphis are all within easy reach. Inside the city the world-renowned Egyptian Museum allows a glimpse of the rich heritage of this land. Whether exploring the ancient or living the present, Cairo will leave you with an impression of excitement & awe.
Cairo is Egypt?s capital city, and with over 16 million inhabitants, it ranks as one of the largest cities in Africa. This city of contradictions will enthrall you with its ageless charm. The ancient and the modern co-exist in surprising harmony, and the hospitality and friendliness of its people will set you at ease. Historic Cairo includes the wonders of the pharoahs, as well as a religious heritage embodied in the numerous jewish, coptic and islamic monuments that abound.
The southeastern city of Luxor is home to some of the most remarkable ancient monuments in all of Egypt. The vast Karnak Temple Complex, ancient religious and educational center, is one of the most spectacular examples. There is also the Valley of Kings, where the famous tomb of King Tutankhamun was found, and the Valley of Queens, final resting place of Queen Nefertari. In addition to the splendor of its museums and ancient temples, Luxor is also the perfect location to embark on a Nile Cruise.
The Sinai Peninsula is a vast area of unspoiled beauty. The excellent quality of the water, the magnificent underwater world and the impressing panorama of the Sinai Mountains, all promise an unforgettable experience. Sharm El Sheikh is fast becoming the main attraction of this area. A costal resort where you can relax and enjoy the beautiful sandy beaches and sunshine, Sharm El Sheikh offers the vacationer a full complement of activities, whether water sports (water-skiing, windsurfing, diving, snorkeling), golf, tennis, horseback-riding or desert safaris.
If relaxation is what you?re looking for, there is no better place to simply kick back and enjoy the sun. Places like the Hard Rock Caf?, discos, cozy local oriental Cafes and fish restaurants guarantee that once the sun has set, your nights are also filled with fun and entertainment. Don?t miss a night out in Naima Bay, one of the favorite gathering points for locals and tourists, snuggled in the heart of Sharm El Sheikh.
Once the ancient kingdom of Kush, Nubia houses archeological sites of great interest: temples, fortresses and tombs. The constructionof the High Dam brought up a great danger of overflooding the temples of Philae, Kalabsha and Abu Simbel. One can enjoy a cruise in Lake Nasser to explore the New Nubia after relocating the flooded temples.Situated 280 km south of Aswan, the two temples of Abu Simbel are the most magnificent temples in the world. The first temple was built by the mighty pharaoh Ramses II and the other for his wife Queen Nefertari. Their allocation is an achievement that was supported and managed by UNESCO
Ramses II constructed the two great temples in Abu Simbel one for himself and one for his Nubian wife Nefertari. The two temples at Abu Simbel are perhaps some of most magnificent monuments in the world. The temples face east to receive the rays of the rising sun. It is said that twice a year, the sun shines on the face of the King: once on his birthday and once on his coronation day. It is still a mystery to archaeologists how the ancient Egyptians could have designed and built such miraculous structures. In 1964 they were threatened by submersion in Lake Nasser due to the construction of the High Dam. The Egyptian Government secured the support of UNESCO for the removal and reconstruction of the two temples.
The temples were dismantled and raised over 60 meters up the sandstone cliff where they had been built more than 3,000 years before. The project completed by an international team of 3000 specialists, cut the Temple into 2000 pieces, carved the entire Temple out of the cliff and reconstructed both cliff and Temple nearby. The project took $40 million to complete; one of the most ambitious relocation projects in history.