Ancient and Wild Africa / 17 Days
Daily Departure Guaranteed / All the year round



DAY 01

Depart USA, meals, drinks and in-flight entertainment included

DAY 02

Arrive in Cairo you will be met by Global Gate Vacations and transferred by private vehicle to your hotel. The remainder of today is at leisure for you to relax after your journey or to start exploring the vibrant city of Cairo independently.

DAY 03

After breakfast enjoy a full day sightseeing including the great pyramids of GIZA (PYRAMIDS OF CHEOPS,KHEFREN and MYCERINUS) continue to the sphinx and the valley of temples, lunch, proceed to the egyptian museum(home of king (TUTANKHAMUN) and discover the priceless treasures (3350 years old)discovered by HOWARD CARTER in 1922 this evening enjoy a sound and light show at the great pyramid (33$)(B L)

DAY 04

After breakfast, enjoy old coptic Cairo visiting the Hanging church , Ben Ezra synagogue . Remainder of the day is at leisure . late in the evening transfer to Cairo airport for flight to Nairobi . Arrival , transfer by Global Gate Vacations to your hotel ( B )

DAY 05

After breakfast, drive further north across Equator to the semi-desert Northern Frontier,where the Samburu ,Buffalo Srings and Shaba Reserves are located.Enjoy a thrilling afternoon game drive.Shaba Sarova ,a luxurious lodge is set in Born Free country where the glories of nature are concentrated in this semi-desert oases. Spring water flows throughout the lodge to form beautiful water cascades and sparkle into the Uaso Nyriro River.The habitat for crocodiles . Unique to this area are reticulated giraffe,Grevy's zebra gerenuk,beisa orynx and the somali ostrich.There are also lions,cheetahs,elephants,buffalo,leopards,other big game and 100 species of birds.Dinner (B L D)

DAY 06

After breakfast, all morning and afternoon game viewing in Samburu.This area is quite unique for its geography and also for its wildlife .We can expect to witness an abundance of wildlife here including the long necked gerenuk,Gervy's zebra and reticulated giraffe.Dinner ( B L D )

DAY 07

After breakfast , drive via Nyahururu Falls down into the Great Rift valley to lake Nkuru National Park ,famous for its thousands flamingos and other birds. After lunch enjoy a game drive through the park and a visit to the lake , Set on plateau on the Rift Valley,overlooking one of the world's greatest ornithological spectacles ,Lake Nakuru , stands Lion Hill Lodge it is beautifully landscaped with natural foliage and a startling variety of flower gardens.The panoramic view from the lodge reveals a shimmering pink glow across the lake , created by millions of flamingo,pelicans and Marabou Storks.The park is also a sanctuary for the rare black rhino, leopard, waterbuck and other species of birds.Dinner (BLD)

DAY 08

After breakfast , drive across the Rift Valley and south of the Masai MaraGame Reserve.The Mra is actually the northern tip of the famous Serengeti.During your afternoon game drive you may see all of the Big Five (lion,leopard,elephant,buffalo and rhino) as well as plains game such as giraffe , antelope and zebra.Dinner (B L D )

DAY 09

After breakfast, enjoy drives in Msai Mra Game Reserve Kenya's premier reserve ,home to huge numbers of plains games such as wildbeest zebras and gazelle as well as large populations of lions.The Mara river which runs through the reserve contains many hippo and crocodiles. Dinner (BLD)

DAY 10

After breakfast, after a morning game drive return to Nairobi. arrival, remainder of the day is at leisure and personal activities (B)

DAY 11

After breakfast , transfer by Global Gate Vacations to airport for flight to Cairo.Arrival met by Global Gate Vacations at Cairo airport and transferred to your hotel ( B )

DAY 12

After breakfast , transfer by Global Gate Vacations to cairo airport for your flight from cairo to Aswan(possibility of an optional excursion to the mighty temple of Abu simbel by plane before starting your nile river cruise)(235$) upon arrival to Aswan , transfer to your cruise ship , check-in to your elegant hotel boat in time for lunch .in the afternoon a special treat , board on a felucca and sail to the other side of the nile across the blue waters of the river.en route see the ancient nilometer on elephantine island , kitchener island' lush botanical gardens and the magnificent Agha Khan mausoleum on the left bank of the nile(B L D)

DAY 13

After breakfast ,enjoy a magnificent full day to the high dam,the unfinished obelisk and the granite quarries then we visit the Isis temple at Philae's island then board our luxury cruise ship, lunch. sail to Komombo to visit the temple of kom ombo built for the falcon & crocodile gods.sail to Edfu dinner (B L D)

DAY 14

After breakfast ,visit the egypt's best preserved cult temple of Horus you will travel from your cruise ship to temple by horse-drawn carriage .sail to luxor via Esna arrive luxor. dinner (B L D )

DAY 15

After breakfast,disembark the cruise ship to explore the west bank of the nile , visit the necropolis of Thebes , the colossi of Memnon , temple of queen hatshepsut , valley of the queens ,valley of kings, lunch on board ,evening free at leisure.enjoy an optional sound and light show at karnak temple (33$)(B L D )

DAY 16

After breakfast , disembark the cruise . visit the grand temple of luxor which dominates the town and the gigantic temple complex at karnak -visit- , the avenue of sphinxes which once streched between both temples luxor and karnak .Transfer to Luxor airport for flight back to Cairo ( B )

DAY 17

After breakfast , transfer by Global Gate Vacations to Cairo airport for your homebound arrives the same day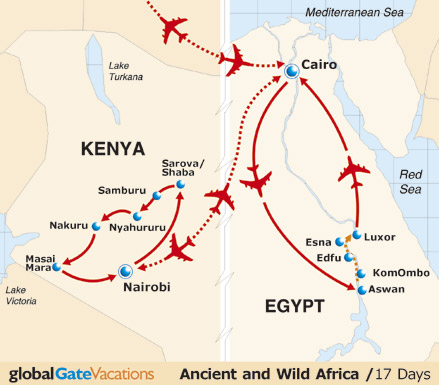 TOUR FEATURES

Scheduled transatlantic flight (round trip ticket NYC/Cairo/NYC)(air&land prices)

Scheduled flight Cairo/NAIROBI/Cairo (Air&Land Prices)

Intra-egypt flights from Cairo to Aswan & from Luxor to Cairo (Air & Land prices)

04 nights at a deluxe 05 stars hotel -cairo-

07 nights in Kenya (which 05 nights are on full board basis)

04 nights at a deluxe 05 stars cruise ship

34 meals included.

All transfers in cairo,aswan , luxor (Air&Land Prices)

Luxury touring cars

All drives in Kenya with professional experienced tour directors

Sightseeing as per itinerary

Professional tour directors escort you with local professional guides

Included Sightseeing

GREAT PYRAMIDS OF GIZA AND THE SPHINX , EGYPTIAN MUSEUM (KING TUTANKHAMUN'S TREASURES)

OLD COPTIC CAIRO , MUALLAKA CHURCH , BEN EZRA SYNAGOGUE

SAFARI KENYA AND ADVENTURE (AS PER ITINERARY)

ASWAN HIGH DAM , GRANITE QUARRIES , UNFINISHED OBELISKTEMPLE OF PHILAE

LUXOR WEST BANK ,VALLEY OF KINGS AND VALLEY OF QUEENS , LUXOR AND KARNAK TEMPLE

HOTELS

CAIRO - Mena House Oberoi or Le Meridien Pyramids Hotel

NILE CRUISE Sonesta Nile cruise

NAIROBI - Safari Park or Hilton Nairobi

SHABA RESERVES - Sarova Shaba Game Lodge

NAKURU - Lion Hill Lodge

MASAI MARA - Paradise

NOT INCLUDED

Airport taxes and September 11th security fees

Optional tours

Tips to guide and driver

All drinks on board of your cruise ship


Cruise itinerary is subject to change

On occasion there may be the possibility of a slight alternation in the itinerary due to the sailing conditions on the nile , domestic air schedule , religious holidays

In any case all included visits will be operated

For supplements from other US gateways (please refer to our reservation department)

2012 / 2013 EGYPT AND KENYA 17 DAYS ANCIENT AND WILD AFRICA

Prices are Valid for the period

Between

And

land only

air & land

JAN 01

JAN 31

4750

6395

FEB 01

FEB 26

4950

7395

MAR 01

MAR 31

5455

7395

APR 01

APR 30

5645

7195

MAY 01

MAY 31

5745

7295

JUN 01

JUN 30

5755

7395

JUL 01

JUL 31

5855

7495
| | | | |
| --- | --- | --- | --- |
| AUG 01 | AUG 31 | 5855 | 7495 |
| SEP 01 | SEP 30 | 5755 | 7395 |
| OCT 01 | OCT 31 | 5645 | 7395 |
| NOV 01 | NOV 30 | 5645 | 7195 |
| DEC 01 | DEC 06 | 5545 | 7295 |
| DEC 07 | DEC 15 | 5875 | 7395 |
| DEC 16 | DEC 30 | 6745 | 8395 |
XMASS &NEW YEAR GALA DINNER MAY APPLY) 2013

DEC 31

FEB 28

5875

7495

Notes
*This Tour is operated daily all the year round
*In case of no other reservation received on the same date of your travel / Tour will be arranged Privately for you, That means "You will have your own Car, Guide & Driver all the way"
* All prices remain the same in case Tour is operated Privately / NO price increase


About us . Destinations . Hot deals . Travel Agents . FAQ
References . Hotels . Terms & Conditions . Contact us



The modern metropolis of Cairo pulses with activity, yet the past is so close by. The great Pyramids of Giza and Memphis are all within easy reach. Inside the city the world-renowned Egyptian Museum allows a glimpse of the rich heritage of this land. Whether exploring the ancient or living the present, Cairo will leave you with an impression of excitement & awe.
Cairo is Egypt's capital city, and with over 16 million inhabitants, it ranks as one of the largest cities in Africa. This city of contradictions will enthrall you with its ageless charm. The ancient and the modern co-exist in surprising harmony, and the hospitality and friendliness of its people will set you at ease. Historic Cairo includes the wonders of the pharoahs, as well as a religious heritage embodied in the numerous jewish, coptic and islamic monuments that abound.
The southeastern city of Luxor is home to some of the most remarkable ancient monuments in all of Egypt. The vast Karnak Temple Complex, ancient religious and educational center, is one of the most spectacular examples. There is also the Valley of Kings, where the famous tomb of King Tutankhamun was found, and the Valley of Queens, final resting place of Queen Nefertari. In addition to the splendor of its museums and ancient temples, Luxor is also the perfect location to embark on a Nile Cruise.
The southern city of Aswan is one of Egypt's most important attractions. It is one of the sunniest cities in the country, small enough to walk through and enjoys an ideal location on the bank of the beautiful Nile River. Close at hand is Elephantine Island with its pre-dynastic ruins, and Kitchener's Island, home to a lush tropical garden full of exotic plants and flowers. Aswan is the perfect spot to embark on a Nile cruise or simply enjoy the river views from the comfort of your hotel.
The town of Edfu, on the west bank of the Nile 56km south of Esna and 105km north of Aswan, is today an important centre for sugar production and pottery-making. Edfu was the place where the god Horus was worshipped and where the battle between Horus and his traditional enemy Seth in ancient mythology took place. The main monument at Edfu is the Ptolemaic Temple of Horus on the edge of the town and was first excavated by Auguste Mariette in the 1860s.The Temple of Horus at Edfu is the best-preserved ancient temple in Egypt and the second largest after the Temple of Karnak. The temple was built during the six reigns of the Ptolemies on the site of the great battle between Horus and Seth. Horus was the falcon headed god.
About 28 miles north of Aswan is the Temple of Kom Ombo built on a high dune overlooking the Nile River. Ptolemy VI built the temple in the 2nd century BC but Ptolemy XIII built the outer and inner hypostyle halls. Augustus built the outer enclosure and part of the court around 30 B.C. The temple is actually made up of two temples: that of Sobek and that of Haroeris. In ancient time, crocodiles waded in the river. There are two entrances, two courts, two colonnades, two hypostyle halls and two sanctuaries. There were probably even two sets of priests for the two temples. Foundations are all that are left of the original Pylon. Beyond the Pylon, there was once a staircase in the court that led to a roof terrace. In the southwest corner is the one column that does not echo the duality of the temples. Here, there are scenes depicting purification of the King, his coronation and his consecration of the Temple. The ceiling has astronomical images. In the anti chamber, there are scenes depicting the goddess Seshat. Statues to the gods and the builders of the temple once occupied the net room just before the sanctuaries. The ceiling of the pure place to the north still remains with an image of Nut. There is little left of the sanctuaries