IMPERIAL CITIES / 08 DAYS (Escorted / First Class)



SATURDAY

Depart USA.meals ,drinks , in-flight entertainment included

SUNDAY

CASABLANCA/RABAT (95 km)

Arrive in Casablanca early morning welcome by Global Gate Vacations staff at Mohammed V airport delivery of your vouchers and your trip documents. brief review of the tour during your transfer to Visit of the economic capital of Morocco :the central market, the Habous district, the Royal Palace, the Mohamed V square, the residential area of Anfa and the outside of the mosque Hassan II.

Fish lunch at one of the seafront restaurants.

Continuation to Rabat , city tour : the Royal Palace, (Mechouar), the Oudaya Kasbah, the Mohamed V mausoleum, the Hassan Tower.

Dinner and accommodation at the hotel.

MONDAY

RABAT / MEKNES / FEZ (220 km)

Departure to Meknes and visit of the Ismalian capital famous for its 40 km long walls, visit of the Bab Mansour, the Royal stables and the Jewish quarter.

After lunch, continuation to the holy city of Moulay Idriss, and via the ruins of the Roman city of Volubilis, continuation to Fez.

Dinner and accommodation at the hotel.

TUESDAY

FEZ

The whole day is devoted to the city-sightseeing of Fez, the religious capital of Morocco : the medieval Medina with its Attarine and Bou Anania Medersas, the Nejjarine fountain, the Moulay Idriss mausoleum, and the Karaouine mosque.

Moroccan lunch at a traditional restaurant in the Medina. Afternoon, visit of Fez Jdid. Dinner and accommodation at the hotel. In the evening, possibility to attend the magnificent « sound and light » show.

WEDNESDAY

FEZ / BENI MELLAL / MARRAKESH (485 km)

Departure to MARRAKESH passing by the Berber village of Immouzer du Kandar and Ifrane. Lunch and a moment of relaxation in Beni Mellal one of the agricultural centres of Morocco. Arrival in MARRAKESH in the late afternoon. Check in at the hotel, dinner and overnight.

THURSDAY

MARRAKESH

Visit of historical MARRAKESH : the Menara garden, the Saadian tombs, the Bahia Palace, the Koutoubia and the Dar Si Saïd Museum. Lunch at the hotel. Afternoon, visit of the famous Djemaa El Fna square with its surrounding souks and handicraft quarters. Dinner with fantasia show. Accommodation at the hotel.

FRIDAY

MARRAKESH/CASABLANCA

Morning at leisure. Lunch at the Moroccan restaurant, then Departure to Casablanca. Dinner and accommodation at the hotel.

SATURDAY

CASABLANCA/ DEPARTURE

Transfer to the Airport by Global Gate Vacations, with departure assistance for your homebound flight arrives the same day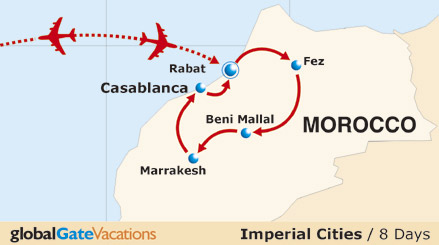 THESE PRICES INCLUDE

Scheduled transatlantic flight (from&to NYC) for supplements from other US gateways please refer to our reservation department

Welcome & assistance at Mohamed V airport by Global Gate Vacations staff.

Hotel accommodation of your choice based on HB with dinners in the respective hotels with exception on day 6 where lunch is served

The full board supplement * includes meals in local restaurants and the dinner with fantasia show according to the described itinerary.

Transportation with an adequate deluxe vehicle according to the number of participants.

Multilingual tour escort /guide throughout, and local guides in the cities.

Entrance fees to the monuments indicated in the program,

Porterage of luggage,

Tips at the hotels and restaurants,

Our assistance.
ADD 175$ AND GET THE WHOLE PACKAGE ON FULL BOARD BASIS

NOT INCLUDED

Airport taxes and September 11th security fees

2012 IMPERIAL CITIES OF MOROCCO

LOW SEASON (Land only)

MEDIUM SEASON (Land only)

HIGH SEASON (Land only)

FIRST CLASS HOTELS*

1275

1395

1495

SUP. FIRST CLASS (05 STARS)*

1375

1495

1545

DELUXE (05 STARS+)*

1575

1685

1795

* ADD 175$ TO ANY OF THE ABOVE AND GET THE WHOLE PACKAGE ON FULL BOARD BASIS

DATES OF OPERATION :

Low season

Medium season

High season

FEB 08

JUN 08

AUG 08

MAR 08

JUL 08

SEPT 08

APR 08

OCT 08

MAY 08

Nov 08

SEPT 08

Dec 08

Global Gate Vacations Finest Hotels

CITY

First Class

Sup. First Class

Deluxe

Casablanca

Farah or Basma

Sheraton

Royal Mansour

Rabat

Belere

Farah

Hilton

Fez

Zalagh I

Holiday Crown

Jnane Palace

Marrakesh

Siaha

Sheraton

Meridien N'Fiss de luxe rooms


About us . Destinations . Hot deals . Travel Agents . FAQ
References . Hotels . Terms & Conditions . Contact us



MARRAKESH, one of Morocco's Imperial Cities, is known as the "Pearl of the South". Once the kingdom's capital under several dynasties, the city gave the country its name. Almost ten centuries old, it offers fabulous architecture, lush gardens, and a timeless culture. Whether sightseeing at the El Badii Palace, bargaining with the Red City's shopkeepers or trekking to the nearby Atlas Mountains, MARRAKESH offers a truly unique experience.
Casablanca is a surprisingly modern city, with wide boulevards, tall white buildings and efficient maintenance. The commerce capital of the country, it combines its cosmopolitan atmosphere with the charm of its old quarter and central market. Combining famous sites such as the Royal Palace and Mohamed V Square with popular restaurants and clubs, it offers an adventure with every visit.
One of the oldest and largest medieval cities in the world, Fez is Morocco's center of culture and religion. The old sections of town have changed very little over the centuries. The city is home to the famous Karaoine Mosque, the Nejjarine Fountain and the historic medina, with traditional architecture and an old-fashioned way of life. One of the most-loved cities in Morocco, Fez will leave a lasting impression on all of its visitors.
Rabat is situated by the Atlantic ocean, 80 km northeast of the larger and economically more important city of Casablanca. Rabat is a commercial and administrative centre. It has many historical monuments and some of Morocco's most important museums. Rabat is also the home of the main Royal Palace (built 1950). It has a university (established 1957) and other important learning institutions. All foreign embassies in Morocco are located in Rabat.