Sound of Music / 08 Days (Independent / Rail Tour)

Vienna & Salzburg
Daily Guaranteed Departure


DAY 01

Depart USA. meals, drinks and in-flight entertainment included

DAY 02

Arrive in Vienna . transfer by Global Gate Vacations to your hotel. the remainder of your day is at leisure

DAY 03

after breakfast , enjoy Vienna city tour with Schonbrunn palace , the tour will give you an overall impression in the most significant historical sights of Vienna.along the ringstrasse we show you numerous magnificent buildings such as the state opera house , the museum of fine arts ,the museum of natural history , the new cultural district -the museums quarter , the Hofburg , the parliament , the city hall , the burg theater and on the way to the prater we pass by the KUNSTHAUS

you will also see the giant ferris wheel , which is an impressive landmark of Vienna . the highlight of this tour will be a visit to the Schonbrunn palace with its showrooms , in this former summer residence of the Habsburg familly lived eg before Maria Theresa .on the way back we take you to the belveder palace -former summer residence of prince Eugen, return to your hotel.

DAY 04

after breakfast , enjoy a full day at Vienna woods , we will show you some of the most beautiful sights of Vienna Woods , situated to the south of Vienna , passing through the roman spa resort of baden with its impressive Biedermeier architecture , proceed to the helenen valley to the former hunting lodge of Mayerling ,today a commemorative chapel where crown prince Rudolph the only son of emperor Franz joseph I is said to have committed suicide with his mitress baroness Vetsera in 1889. the highlight of the tour however is certainly the magnificent cistercian abbey of Heiligenkreus , a monastry which dates back to 1133 but still in use today.then driving to the seegrotte.from there after a boat ride on the largest subterranea lake in Europe you leave Vienna woods and return back to your hotel

DAY 05

after breakfast, today we follow the Danube vally passing the monastery of Melk, Durnstein castle where Richard the lionheart was imprisoned and later rescued by his faithfull servant blondel, return to Vienna .overnight

DAY 06

After breakfast, departure to Salzburg. Arrival morning city tour with your local guide on foot , showing us the cathedral , Mozart square and many of the sites which were used in the film (sound of music), free time at leisure or you might see the mirabell gardens. In the evening return to Vienna. Overnight

DAY 07

after breakfast , free time at leisure, (optional tours available. Overnight)

DAY 08

after breakfst , transfer by Global Gate Vacations to airport for your homebound flight arrives the same day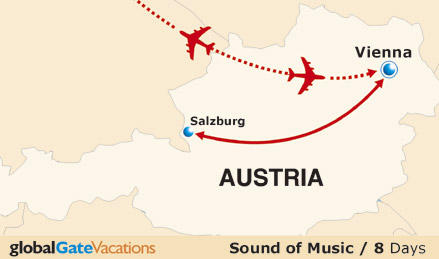 TOUR FEATURES

Scheduled transatlantic flight (from & to NYC) supplements from other US gateways please refer to our reservation department

Accommodation at hotel with breakfast

Included sightseeing as per itinerary

Professional tour directors to escort you

NOT INCLUDED

Airport taxes and September 11th security fees

Optional tours

2012 - 2013 SOUND OF MUSIC VIENNA AND SALZBURG 08 DAYS

For the period

BETWEEN

AND

TOURIST CLASS

FIRST CLASS

SUPERIOR FIRST CLASS

land only

land only

land only

JAN 05

MAR 27

1195

1295

1395

APR 01

MAY 20

1255

1355

1455

MAY 22

JUL 03

1395

1495

1595

JUL 08

DEC 11

1395

1495

1595

DEC 12

DEC 31

1375

1475

1595

BETWEEN

AND

TOURIST CLASS

FIRST CLASS

SUPERIOR FIRST CLASS

Air & land

Air & land

Air & land

JAN 01

MAR 27

1945
2045
2145

APR 01

MAY 20

1995
2095
2195

MAY 22

JUL 03

2145
2245
2345

JUL 08

DEC 11

2195
2295
2395

DEC 12

DEC 31

2395
2495
2595



About us . Destinations . Hot deals . Travel Agents . FAQ
References . Hotels . Terms & Conditions . Contact us



Most of Vienna's famous sights are in or close to the city centre and they are easy to reach on foot or by public transport.
The city has an astonishing array of monuments, palaces, parks and museums, which house impressive collections of art and artefacts from all over the world and from all periods of history. These two great Austrian artists have become increasingly popular in recent years, especially amongst the British following major exhibitions of their work in London. Many works by both artists are on exhibition in Vienna's galleries, along with the wealth of fine art you would expect to find in a capital city with such a rich cultural history. Klimt's master work can be seen adorning the walls of the Secession Chapel, whose gold leaf roof is a city landmark. One of Vienna's most famous landmarks, it was built in 1896 by the English engineer Walter Basset for the World Exhibition and was later immortalised by Graham Greene in the film 'The Third Man'.
A city to be discovered ... again and again.
Visit Mozart's birthplace and experience the festive air of a city filled with music all year round. Salzburg has its own charm, and is divided by the Salzach River into the "old city" and the "new city" - each with its own individual character. The city's landmark - The Hohensalzburg fortress - dates back to the Middle Ages and is visible from afar. As the largest, totally preserved fortress in Central Europe it reigns proudly from its mountain top.
Salzburg was the location for the film Sound Of Music, which was based on the true story of the Trapp family. Baron Georg von Trapp took on Maria von Kutschera, a novice at the Benedictine Convent on Nonnberg in Salzburg, as a governess to look after his seven children after the death of his wife. Maria became the Baron's wife and founded a family choir, which performed regularly in public.
After fleeing the country on Hitler's annexation of Austria in 1938, the family had no income other than that drawn from their musical performances. They settled in the USA in 1941 and purchased a farm in Stowe, Vermont.
Getreidegasse
Wolfgang Amadeus Mozart's Birthplace
A place of pilgrimage for all lovers of Mozart's wonderful music, this is where the composer was born on 27 January 1756. Music ran in the family: Mozart's father Leopold was a chamber musician appointed by the court, and not only Wolfgang himself but also his sister Nannerl – a nickname for Maria Anna – displayed great musical talent at an early age. Although Mozart later left Salzburg, he is still regarded as the city's most famous son.