Big SOUTH & KASBAHS by 4X4 / 09 days (Escorted / First Class)



FRIDAY

Depart USA , meals , drinks and in-flight entertainment included

SATURDAY

MARRAKESH

Arrival at Marrakesh Menara airport, welcome by Global Gate Vacations staff. Assistance and transfer to your hotel.

Dinner and accommodation.

SUNDAY

MARRAKESH

Full day sightseeing of Marrakesh : The Menara gardens, The Bahia Palace, The Saadian Tombs, and the Koutoubia mosque.

Lunch at the hotel. Afternoon, visit of the famous Djemaa El Fna square with its surrounding souks and handicraft centres.

Dinner with oriental show, overnight at the hotel.

MONDAY

MARRAKESH/ / OUARZAZATE/ ZAGORA (375 km)

Departure by land rover to Ouarzazate via the mountains of the high Atlas passing through the Tich'n'Tichka pass at an altitude of 2260 m.

Lunch in Ouarzazate and continuation to Zagora via the mountains of the Anti-Atlas.

From Agdz, the track road is taken leading through numerous villages and palm groves along the Drâa river.

Dinner and accommodation at the hotel.

TUESDAY

ZAGORA / ERFOUD (250 km)

Excursion to Tamegroute, visit of the famous library containing old books and documents dating from the 12th century. Visit of the sand dunes of Tinfou. Departure to Erfoud, partly by track road and partly by normal road, through Tansikht and Nkob where splendid sceneries of pre-saharian desert dotted with Berber villages, and of the Sargho mountain massive follow each other perpetually. Stop at Tazzarine, small Berber village, for lunch. Afternoon, continuation to Erfoud via the villages of Alnif and Rissani, birthplace of the present Alaouites Dynasty. Dinner and accommodation at the hotel.

WEDNESDAY

ERFOUD/TINGHIR (200 km)

Early morning, excursion to see the sunrise over the sand-dunes of Merzouga, Back to the hotel for breakfast and continuation to the Tinghir Oasis, famous for its magnificent Todghra canyons which rocks reach an altitude of 250 meters. Excursion to the canyons and possibility for a short hike. Lunch at a restaurant situated at the feet of the canyons. Dinner and overnight at the hotel in Tinghir.

THURSDAY

TINGHIR / OUARZAZATE (200 km)

Departure to Boulmane where we enter the Dades canyons for a visit. Via the road of the thousand kasbahs, continuation to EL Kelâa from where we take again the track road to the village of Skoura. On the way, we pass the beautiful kasbah of Amerhidel. Lunch on the way. The track road continue till Ouarzazate following the feet of the Atlas mountains. Dinner and accommodation in Ouarzazate.

FRIDAY

OUARZAZATE / MARRAKESH (200 km)

Short visit of Ouarzazate including the kasbah of Taourirt and continuation to Aït Benhaddhou.This kasbah is the most famous one in Morocco and has served as decor for many great movies. The Kasbah is actually under UNESCO protection. Continuation to Telouet by a track road which is one of the most difficult parts of this tour. We are crossing two river beds and are climbing the Atlas mountains. The scenery is stunning. Visit of the Kasbah of Telouet, former residence of the Glaoui family, one of the most influential families of this region, lunch on the way. Via the Tich'N'tichka pass, continuation to Marrakesh Dinner and accommodation at the hotel. Optional dinner fantasia show.

SATURDAY

MARRAKESH / DEPARTURE

Transfer to the airport of Marrakesh, for your homebound flight arrives the same day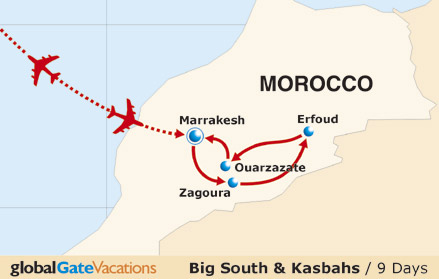 THESE PRICES INCLUDE

Scheduled transatlantic flight (from&to NYC) for supplements from other US gateways please refer to our reservation department (Air and land prices)

Hotel accommodation based on HB according to the described itinerary

The full board supplement * includes meals in local restaurants and the dinner with fantasia show according to the described itinerary.

Transportation by land rover with and Arabic, English speaking driver during the tour.

Arrival and departure transfer as well as sightseeing in MARRAKESH by motor coach. (Air and land prices)

Multilingual speaking tourescort / guide

Entrance fees to the monuments indicated in the program,

Porterage of luggage,

Tips at the hotels and restaurants,

Our assistance.

Supplement bivouac in Merzouga (75$)

For any trip extension or arrival prior to the tour, transfers will be added to the above costs.
ADD $245 AND GET THE WHOLE PACKAGE ON FULL BOARD BASIS

2012 BIG SOUTH AND KASBAH BY 4X4 LAND ROVER 09 DAYS

LOW SEASON (Land only)

MEDIUM SEASON (Land only)

HIGH SEASON (Land only)

FIRST CLASS HOTELS*

1475

1675

1875

* ADD $245 TO ANY OF THE ABOVE AND GET THE WHOLE PACKAGE ON FULL BOARD BASIS

DATES OF OPERATION :

Low season

Medium season

High season

JAN 08

FEB 087

DEC 08

23

JUN 08

AUG 08

MAR 08

JUL 08

SEPT 08

APR 08

OCT 08

MAY 08

Nov 08

| | |
| --- | --- |
| CITY | First Class HOTELS |
| · Marrakech | DIWAN/ANDALOUS/IMP HOLIDAYS |
| · Zagora | PALAIS KASBAH/REDA |
| · Erfoud | EL ATI |
| · Tinghir | KENZI BOUGHAFER |
| · Ouarzazate | BELERE |


About us . Destinations . Hot deals . Travel Agents . FAQ
References . Hotels . Terms & Conditions . Contact us



MARRAKESH, one of Morocco's Imperial Cities, is known as the "Pearl of the South". Once the kingdom's capital under several dynasties, the city gave the country its name. Almost ten centuries old, it offers fabulous architecture, lush gardens, and a timeless culture. Whether sightseeing at the El Badii Palace, bargaining with the Red City's shopkeepers or trekking to the nearby Atlas Mountains, MARRAKESH offers a truly unique experience.