Golden China / 13 days "Deluxe / Private Tour"

Beijing, Xi'an, Shanghai, Guilin, Hong Kong
Daily Departure "Guaranteed" All the year round / All meals included
The Historical Highlights of China


DAY 01

West Coast/Beijing

Depart the West Coast for Beijing.

DAY 02

Beijing

Upon arrival in Beijing, meet your local guide and transfer to the Capital Hotel (or Similar).

DAY 03

Beijing (AB, L, D)

After breakfast, visit Tiananmen Square, then enter the Forbidden City, home of Chinese Emperors for more than 500 years. After lunch, visit the Temple of Heaven, one of the finest examples of Ming Dynasty architecture in Beijing.

DAY 04

Beijing (AB, L, SD)

The highlight today is an excursion to the Great Wall at Juyongguan. Enjoy the dramatic vistas and marvel at the Wall as it climbs and descends steep ridges and narrow valleys. Afternoon at leisure. Attend a welcome banquet featuring Beijing Roast Duck in the evening.

DAY 05

Beijing (AB, L, D)

After breakfast, enjoy a pedicab tour of the Hutongs, the "old city" neighborhood of narrow lanes and courtyard gardens hidden behind Beijing's modern facade. Visit Prince Gong's Palace, the Drum Tower, and old-style courtyard houses still inhabited by Beijing residents. After lunch, visit the Summer Palace, where the Empress Dowager Ci Xi would go to escape the heat of the city.

DAY 06

Beijing/Xi'an (AB, L, D)

After breakfast, take an early morning flight to Xi'an. Transfer to the Sheraton Hotel (or similar), then take a tour of the ancient city walls, the Big Wild Goose Pagoda and the Bell Tower.

DAY 07

Xi'an (AB, L, D)

Today's highlight is a visit to the Archeological Museum, home to more than 6,000 life-size terra cotta warriors and horses excavated from the tomb of the first emperor of the Qin Dynasty. After lunch, visit the Neolithic Village of Banpo which contains relics from the earliest known inhabitants of China. In the evening, enjoy a (optional) special dinner and cultural show recreating the music, costumes and dance of the Tang Dynasty. ($135)

DAY 08

Xi'an/Shanghai (AB, L, SD)

Transfer to the airport for your flight to Shanghai-"Paris of the Orient". Transfer to the Central Hotel (or similar). Afternoon sightseeing features the bustling shopping street Nanjing Road, and The Bund, famous promenade along the Huangpu River. Enjoy a cruise on the Huangpu River with views of Shanghai's ever-changing skyline.

DAY 09

Shanghai (AB, L, D)

Pay a visit to the Jade Buddha Temple, renowned for its huge statue of Buddha carved out of a single piece of white jade. In the afternoon, visit Yu Garden, famous for its rock gardens, pavillions, halls and ponds, and Old Shanghai Bazaar, with shops filled with all manner of interesting curios.

DAY 10

Shanghai/Guilin (AB, L, SD)

After breakfast, take a morning flight to Guilin. Upon arrival, transfer to the Royal Garden Hotel (or similar), then begin sightseeing with a city tour, including Reed Flute Cave, Elephant Trunk Hill, Fubo Hill and Seven Star Park. Attend a banquet of the finest local specialties in the evening.

DAY 11

Guilin/Hong Kong (AB, L)

Today's excursion is a cruise along the beautiful Li River. Experience the magical beauty of limestone rock formations and farmland commonly seen in Chinese landscape paintings. Disembark at the charming village of Yangshuo, which has one of the best antique and craft markets in china. Browse at the market, then board a return coach to Guilin. Transfer to the airport for your evening flight to Hong Kong, where you will be met and transferred to the Marco Polo Hotel (or similar).

DAY 12

Hong Kong (AB, L)

Enjoy a half day sightseeing tour of Hong Kong Island, including visits to Victoria Peak, Repulse Bay, Stanley Market and Aberdeen Fishing Village. Enjoy a dim sum lunch before returning to your hotel. Afternoon at leisure.

DAY 13

Hong Kong/West Coast (AB)

After breakfast transfer to the airport for your flight back to the USA.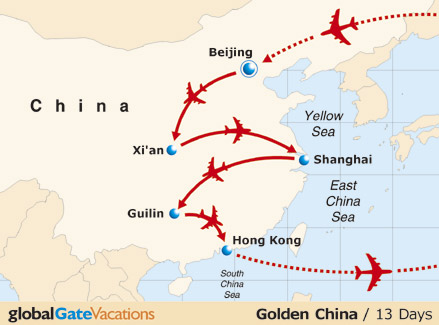 TOUR FEATURES

Scheduled trans-pacific flight (from and to LAX) (Land and Air prices)

For supplements from other US gateways , please refer to our reservation department

Accommodation as per itinerary (Deluxe Hotels)

31 meals

Domestic flights (Land and Air prices)

All transfers (arrival and departure)

All entrance fees

Guiding fees

Professional tour directors to escort you

NOT INCLUDED

Airport taxes and September 11 th security fees

Port taxes

Tips and optional tour

2012 Golden China / 13 day tour "Daily departure" for the period

Between

And

Land & Air

Land Only

Single Supp

Jan 07

Feb 03

$3695

$2399

$895

Feb 04

Mar 03

$3845

$2565

$935

Mar 04

Mar 31

$3695

$2399

$875

Apr 01

May 05

$3895

$2595

$1095

May 06

Jun 02

$3995

$2499

$1195

Jun 03

Jun 31

$3985

$2495

$945

Jul 01

Aug 04

$3945

$2475

$995

Aug 05

Sep 01

$3855

$2475

$975

Sep 02

Oct 06

$3835

$2595

$1175

Oct 07

Nov 03

$3995

$2855

$1245

Nov 04

Dec 01

$3895

$2695

$1345

Dec 02

Dec 15

$3895

$2395

$995

2013

DEC 16

DEC 30

$3795

$2495

$845

JAN 04

MAR 10

$3945

$2645

$795

Land only price begins and ends in Beijing and Hong Kong . A $75 airfare surcharge will be added per person each way for departure and / or return on weekends.

About us . Destinations . Hot deals . Travel Agents . FAQ
References . Hotels . Terms & Conditions . Contact us



China's long and colorful history dates back not just centuries but several millennia. As the third largest and most populace nation in the world, China offers not only some of the world's most spectacular scenery, but a diverse and interesting cross section of cultures.
First time visitors may wish to focus on well known cities such as Beijing for the Great Wall and Forbidden City, Xian for the Terra cotta Warriors & Horses, the Yangtze River for the awe-inspiring scenery of the Three Gorges Area, and the vibrant metropolis of Shanghai for shopping. Returning visitors may wish to venture further and explore minority cultures in Yunnan Province, pristine national parks in Sichuan Province, fascinating history along the Ancient Silk Road, or the misty mountain landscapes of Huangshan (Yellow Mountain), to name a few. No matter where you travel in China you are certain to be welcomed by friendly people who are eager to share their history and culture with you. Be prepared for the experience of a lifetime! And remember, as China Travel Specialists, we deliver the quality and value you expect!
Beijing, located in the North, has been China's political and cultural center for the last 800 years. Reigning as both an ancient capital of Imperial China and the modern capital of a thriving nation, Beijing retains plenty of evidence of its royal past, with aristocratic parks, temples, and palaces (all open to the public). Beijing is home to an incredible cultural display of art and historical artifacts in more than 50 museums, folk traditions that flourish in theaters, delicious dining in exotic settings, and cultural centers with fascinating demonstrations of centuries-old arts and crafts. Nowhere else can you get a more concentrated impression of the old and new China. Beijing is the treasure trove of Chinese culture, where many of the sights that make China a world-class destination are located.
Shanghai, whose name literally means "on the sea", is one of the world's largest seaports and one of China's major industrial and commercial centers. It is located on the east coast of China near where the Yangtze River empties into the East China Sea. Shanghai is also China's most populous urban area with 11 million inhabitants.
Hong Kong maintains its status as the most popular travel destination in Asia, where the exotic East fuses with the contemporary West in a dynamic contemporary city. English is widely spoken and Hong Kong's compact area along with her excellent public transport system makes it easy to get around. Hong Kong's energetic atmosphere is unforgettable. Ranked as one of the largest trade entities in the world, a broad business base has developed and today it is the most dynamic international business (trading, transportation and communications) center in the region. Hong Kong is renowned for its entrepreneurial spirit, and her 7 million inhabitants have a worldwide reputation for working hard and playing hard.